We've all had our full of Mullerlights by now, and cold-snap chomping means we're far more rotund than ripped. Add to that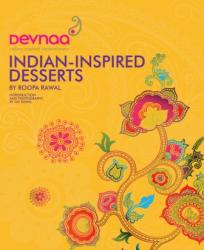 the ever-encroaching terror of having to pull something sweetly spectacular out of the bag for one's intended Valentine, and Devnaa's decidedly different dessert book is a sound preposition. Brother and sister Jay and Roopa Rawal are the sweet genii behind the bijou confectionary company, out to disprove the notion of Indian mithai as the exclusive preserve of those with an entire mouthful of sweet teeth (or, more likely, no teeth at all).
Of course, altruism only goes so far. The culinarily inept may prefer to avoid getting sticky in the kitchen and give'Indian Inspired Desserts' as a V-day gift instead. See it as an investment in a future where main meals are mere precursors to barfi and balushahi. Or even forsaken entirely, just to make more room for rich carrot halva. Devnaa has taken the unique approach of fusing the flavours and textures found in traditional Indian sweets with the sort of jewel-like chocolates you'd see in a Belgian boutique, and by'eck it works.
Yes, a crisp, syrup-soaked batter squiggle might set one's fillings a-jangle, but temper the intensity with a bitter cocoa hit from a natty dark chocolate dunk and calm is rapidly restored to your jalebi-munching. Apple chutney samosas are simply a tastier take on the puffy turnovers pedalled by Percy Ingle. We Brits are a classically treacle tart-troughing, sticky toffee-scoffing nation anyway, so it seems only right we'd be easily seduced by Roopa's recollections and recipes for rasmalai, rice pudding, and an Indian-style bread and butter pud fit for kings in more than just its name.
There are some wonderfully esoteric traditional and regional specialities here, some of which are broadly elusive outside the subcontinent. Roopa hasn't shied away from including dishes like mohanthal and seera – the sort of less-glamorous treats eschewed by the gaudy sweet marts. It's a rare opportunity to try the home-made comforts you'd only be served in an Indian household. She's also drawn enlightening parallels between sweet traditions in various countries – the use of buffalo milk in India meaning rich Italian dairy recipes like tiramisu adapt perfectly to a bit of spice.
It's precisely the spice that allows Indian sweetmeats to tread a saffron thread-fine line between sublime and sickly. Roopa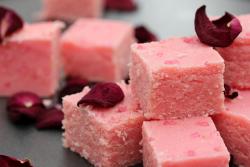 adds heady, aromatic flavours like cardamom, rose, ginger and chai masala in judicious amounts to'Indian-ise' caramels,  cakes and biscuits, then reverses the process for dishes that may prove overwhelming to an unaccustomed Western palate – lightening, toning down and adjusting textures and tastes to yield delicate, balanced results. She likes a fair bit of chocolate, too – and, as most of us know, there's not much the brown stuff can't improve.
This book could so easily have been filled with the kind of cringe-worthy, excruciating'funky fusion' that alienates absolutely everyone in an attempt to appeal to an all-encompassing audience. But there's culinary harmony here – the choc-topped gol gappe a case in point. Whatever their heritage or flavour predilection, I reckon pud-lovers will be united in some pretty sweet reverence. In a vastly overcrowded marketplace, Devnaa's is a refreshingly unique cookbook.'Indian Inspired Desserts' fills a void on your shelves that you probably didn't even realise existed. Trust me, it does.
ISBN 0957094701