{Youtube:qwfhNznSr1M}
'A lot of great inventions have come out of British sheds,' chuckles Mr Singh cheerfully as he leads me literally up the garden path. Here, in a quiet back garden in an anonymous street in London's West Ham is the shed where, back in 2008/9, Mr Singh first cooked up his weapons grade chilli sauce in any real quantity.
The shed perched at the end of the garden is a kind of shrine to the early days of Mr Singh's Sauce, which is now made, under the Singh's strict quality control, at a professional facility out of town, but the family still remember those early days with great affection. 'Oh we worked so hard but it was such fun,' says Kuldip, one of Mr Singh's sons. 'We'd come home from our day jobs and the whole family would quickly grab some dinner and then we'd be out in the shed from 7 p.m. until 1a.m at least! It was a mini-production line and not a bit of space wasted.'
He points out where the big gas burners were, the slide-out workbenches, the wash down and sterilisation areas and the fridges for the chillis. 'All our relations had to have chillies in their freezers keeping them fresh until we could use them' he remembers, 'they were then chopped up by the food blenders looted from mum's kitchen. 300 Kg of chillies really took some blending,' he laughs reaching out to affectionately rattle a Heath Robinson device, a broom handle on string, that once held the reels of labels for the finished sauce bottles. 'State of the art eh?' he says, 'but it worked. I don't know what the neighbours thought though, us all beavering about carrying boxes up and down the garden until the small hours.'
'And it was so hot in here too,' he adds looking around fondly, 'all the windows were open but the summer evenings and with the burners all going…' he shakes his head ruefully. Mr Singh smiles too, but he's at home with heat. 'When we were all growing up,' remembers Kuldip, 'there were always two curries on the stove, one for the family and one for Dad. He was the only person who could take the amount of chilli that he liked in a dish.' And it was that desire to play with fire that brought about Mr Singh's Chilli Sauce, a large pot of which is bubbling away volcanically on the kitchen hob as we talk.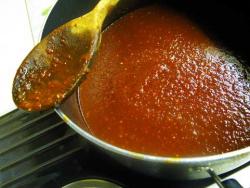 'I just love hot food, ' says Mr Singh stirring the pot meditatively, 'and nothing on the market satisfied my palate. So I tried making my own and took it around local shops and people really liked it and asked why I didn't bottle it and sell it.' Kuldip takes up the story as his dad tentatively samples a spoonful of his brew.
'I checked out the BBC Good Food show online,'he explains, 'and found that anyone could book a stall, trouble was we'd need to sell 1000 bottles at least to break even. Anyway I put the rental money on my credit card, booked a stall and then came home and told the family. We spent the next ten days (and nights) learning how to make it, bottle it and package it here in the house. The dining table was piled high with birds-eye chllies all being destalked by hand. On the day of the show opening it was so close to the wire we were actually selling bottles of sauce that were still warm from the cooking. And we sold out, just like that. Big smiles all round and it gave us a massive lift'
Since then it's been ever upward for the Singhs. They appeared on a BBC TV show called High Street Dreams, moved production to a BRC Accredited manufacturer for mass production and by October 2010 sales were over 40,000 units. Harvey Nichols agreed to stock the sauce nationally in all stores and this month Selfridges began stocking Mr. Singh's nationwide – selling out on the first day of sampling.
So what's it like, this product of family enterprise plus a paterfamilias's lust for heat? Mr Singh offers me a taste from some mix he has cooled down on a small plate. The first flavour is of tomatoes, light and fresh and slightly acidic with a hint of sweetness at the back. Then comes the sensation of approaching fire which washes over your taste buds causing your endorphins to kick in before starting to slowly retreat. It's not one of those chili sauces that are just sadism in a bottle, it really is a condiment and a cooking sauce, as well as dipping sauce too.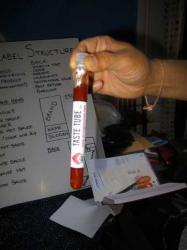 'Our sauce is thick, its not thin and watery.' points out Kuldip, 'it's like a ketchup and can be used as a straight cooking sauce, maybe with some tomatoes to spread it out. My wife, our accountant, his brother, they all love it and eat with bread! Its good as a BBQ marinade too as the sugars in the sauce caramelise. My middle brother Rav even made a Bloody Mary with it, which had quite a kick!'
'I think,' adds Mr Singh,' what distinguishes our sauce is that it has taste not just heat, you go 'mmm' when you try it. Other sauces you just pull a face! There is an alchemy in our sauce, it isn't a mouth-burner.'
The Singhs arent millionaires yet, unless their shed conceals a secret tunnel to a mansion around the corner, but you get the feeling that's not the most important thing in their lives. Instead they are enjoying working as a family, sharing good times and bad times and lashings of Mr Singh's sauce.
With more product ideas in the pipeline, or to be accurate in Mr Singh's fridge, who knows where they will be in a few years' time? West Ham to West Hampstead? Perhaps and it couldn't happen to a nicer bunch of people.