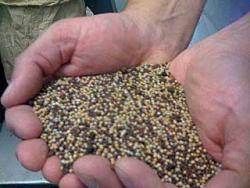 Poor old rapeseed. Perhaps it's the evocative name of it but rape mustard is getting a bad press here in Tracklements' mustard field.
We're standing in Wiltshire acres of yolk-yellow mustard plants owned by Tracklements boss Guy Tullberg.
The wiry mustard plants (not rape) are taller than me – 'you wouldn't want to lose a child in there," pipes up one visitor as I back away from their florid sunny heads. They could be golden hydra. The group I'm with is slating rape for its voracious growth patterns – something that other mustard does too though, I think, but don't say.
For instance, apparently a handful – around 7000 mustard seeds – will produce eight tonnes or five million seeds in its second harvest meaning it's virtually impossible to eradicate once planted in a field. Cut rape some slack, I think (but don't say), I cook with its oil and it's excellent.
Anyway, the Tracklements story goes that in 1970, Guy's dad William, a professional sausage maker, started to make the first wholegrain English mustard. He was desperate for some accompaniment to mask the awful tasting sausages he made, says Guy. Honest guy!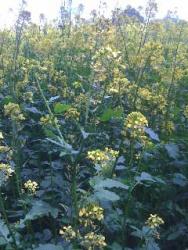 Then we have a picnic next to the plants and taste some of the mustards with some lovely pork pie and faggots. They do flavours like beer and green peppercorns but my favourite is the spiced honey (see below for recipe). The company puts spices such as coriander, cumin, ginger and cardamom in their condiments but they don't shout about it. Guy tells us that even purveyors of French mustard conceal the tarragon in it. 'They won't tell you what it is, they just call it spices," he says.
Next, it was off to the factory to watch the mustard being made by hand – a most refreshing, basic process. After the seeds – both yellow and brown (the hotter) – are ground in a quaint 26-year-old machine, they're stirred in a big cauldron with a giant paddle as water, vinegar and spices are added.
The mixture looks like brown porridge. Apparently the man who has responsibility for stirring it is also a boxer, unsurprising given all the mustard muscles he must build up. After at least a week of maturation when the mixture soaks up the liquid, the mustard's ready to be potted and eaten. The moral of this story is that even the squintiest little seed can make acres of golden glory. But there are many morals you can draw too, if you wish.
Sausage and Spiced Honey Mustard rolls
Makes: 16 – 24
375g pack puff pastry
Plain flour, for dusting
3 tsp Tracklements Spiced Honey Mustard
450g good quality pork sausagemeat (or
skinned sausages)
1 tbsp fresh chopped parsley
1 small onion, peeled and very finely chopped
Salt and pepper to season
1 egg, beaten
Preheat oven to 200oC/ 400oF/ gas mark 6. Lightly grease 2 large
baking trays.
Roll the pastry (even if you have bought a ready rolled sheet of pastry,
you will need to roll it thinner) until it is approx 30cm x 28cm and then
cut in half lengthways.
Spread 1 dessertspoon of the Spiced Honey Mustard onto each
oblong of pastry.
In a bowl mix together the sausagemeat, parsley and onion and
season.
Divide the mixture into two and shape each into a long sausage shape
on top of the pastry. Brush one edge with beaten egg and then roll up,
with the seam underneath, and seal. Cut each roll into 2.5cm lengths,
make a small slit in the top of each roll, brush with beaten egg and
pop onto the baking trays. Bake for 20-25 mins, transfer to a cooling
rack and leave to cool.