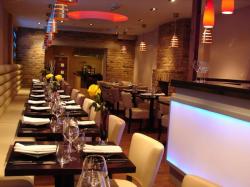 For some, February is the real cruellest month, what with its Valentine hyperbole, morbid imaginings and Arctic weather.
But for others such as Namaaste Kitchen in Camden, February is about celebrating regional Indian cuisine, in this case, that from Hyderabad. And eating is a great antidote for early-year blues.
The night we visited was quite exciting, not only because Hyderabad is a hotbed of 18th century aristocracy, renowned for its rich, meaty cuisine and use of coconut, peanut, sesame and tamarind.
But because a very senior ex-Labour politician was gassing over poppadums and beer at the next table. Straining to hear the gossip was futile, however, as the food came too thick and fast for me to winkle out any hints of dark, sibling rivalry. And the roaring open grill where a chef was performing pyrotechnics left flashes in my curious eyes.
Instead, let me tell you that this modern, red-and-black restaurant near the tastily crusty Dublin Castle, surprised me in its food. I was expecting the usual onion and oil combo but the dishes were fresh, carefully spiced and explicit in flavouring.
Most intriguing was the Chakna, goat tripe 'cooked with flour & selected spices". Well, the masala on this was delicious, and the slow sting of the disc of mooli, on which it was draped, bit back well against the heat of the chilli.
Another beauty was Baghara Baigun, 'stuffed baby aubergines, with freshly roasted spices ground to a fine paste with coconut, peanuts, cumin, ginger and tamarind, then fried and cooked in delicious rich gravy".
Its caramelised brown onion, peanuts and coconut were a warming and refreshing alternative to the usual cream substitutes – this dish was by far my favourite.
I'd mainly visited for the Hyderabadi Murg ki Pakki Biryani – chicken biryani – and this was moist with tomato and very rich, I liked it a lot.
Less notable were the Khatti Machli – grilled sea bream finished with tomato-tamarind sauce and the Hyderabadi Malai Chicken Tikka, which, while subtle and creamy, said nothing different. Next month it's Goa. What with sprung buds and birch, and other March joys, surely there's no better excuse for some regional gastronomy.