What's as orange as being Tango-ed but doesn't give you the headache? Why, Slovenian orange wines, of course; naturally and organically produced, they result in hardly a whiff of hangover. Anita Pati heads East with grape expectations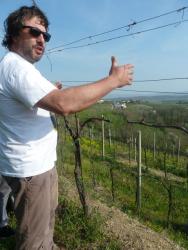 Slovenia, the ex-Yugoslavian country with its population of 2million, may be next in line for an EU bailout but its fortunes could rest in its natural wines, several of which are showing at the RAW festival on 19 and 20 May .
The RAW festival, at London's Old Truman Brewery, is an artisan wine fair promoting organic and biodynamic farms. Founder Isabelle Legeron is herself quite biodynamic, her determination and enthusiasm for natural wines flavouring my trip to the wine-growing Brda region of Slovenia. Legeron is the first French, female Master of Wine and believes natural wines are, "alive in the real sense of the term and really speak to me".
Brda (pronounced Burrrrdah), is just over the border from Italy and is famed in Slovenia, indeed generally, for its orange wines. Its most famous grape is the Rebula – light-bodied and palatable but it also produces Tokaj and Merlot as well as varieties of Chardonnay, Sauvignon and Pinot Grigio.
In case you wondered, orange wines are –non-tekkie explanation – made with white wine grape varieties but with the skins macerated/in contact for a bit longer which produces the distinctive teabag colour.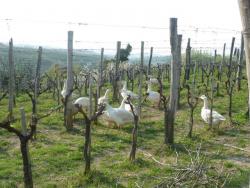 Gotta say, there is more wildlife in hilly Brda than there is in North London. On first arrival in Slovenia, we were chased by a honk of furious geese that live among the vineyards of Aleks Klinec in the village of Medana . Klinec also has snuffling pigs that snark at eachother's shoulder which produce a good, oily salami and a violent pink prosciutto. Both were very juicy considering the meats had been aged for three years.
There were also packs of goats everywhere in Brda, some producing excellent cheeses (hard peppered; sweet curdled;) which are sold from Kovac farm dairy. Kovac also served what they call "white Champagne", a fermented goats milk that can store for up to a month in the fridge and tastes a bit like fizzy Indian Lassi.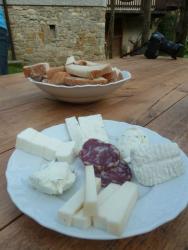 Goats, perhaps not these ones, materialised that night as our main course at a banquet held with local RAW growers back in Medana.
The banquet offered a true showcase of regional orange wines with 2007 proving a good year. Standouts included and a lovely honeyish 2007 La Castellada Collio Sauvignon with four days of skin maceration, and Isabelle's own 2011 Georgian Lagvini which had a grassy flavour.
Some of these growers have formed a four-strong cooperative called Simbiosa . Simbiosa stipulates that not only are its wines organically produced, but that strict rules on pruning, breeding forms and fruit density in the vinyard are adhered to.
My experience of natural wines was that they were softer than ordinary wines, with less edge and aggression on the palate. And while they may lack a definite launch point in taste, they seemed more rounded and wholesome, emitting a kind of energy. Not being filtered, they're often cloudy to look at but the idea is not to interfere with them too much. Crucially, if drunk sensibly, natural wines tend not to give you the crippling hangovers that wines with more sulphites can give you (natural wines have smaller amounts of preservative but still a bit).
Back at the banquet, we had a perfect little starter of local white corn polenta, tight and sticky, with three shredded – macerated if you like – asparaguses (white, lubedika and blusht SIC). And of course a disc of salami. The dish had been doused in vinegar – apparently quite normal around here – which offset the wines we were drinking. Various dishes came and went including a peppery minestrone and the goat joints cooked under a lid of ash.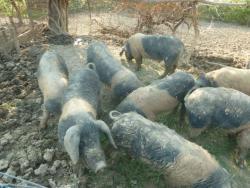 Unidentified herbs adorned our dinners. They're big on foraging herbs around here although luckily locals don't perceive themselves as cool urban foragers; rather, it's common practice. Melissa, mint, dill, hops and wild asparaguses are flung into omelettes or "cvrce". Wild hops stalks – Aleks Klinec clambered down a ditch to pick us some – taste a little of asparagus, and some were in our asparagus risotto, another dish on that night's menu.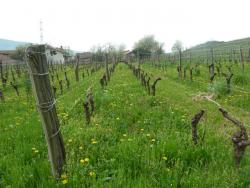 Next day, Isabelle took us to visit some of the growers of natural wines. Driving along Slovenia's roads is wonderfully pleasant now a heft of EU funding has transformed its highways. The steep, stepped terraces are covered in vineyards whose vines look, from a distance, like a chequered green cloth of black crosses. Less bucolic were the myriad casinos and "mega-erotica" warehouses we passed within shopping malls.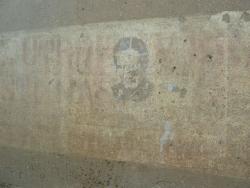 Valter Mlecnik's family own the Mlečnik vineyards in the Vipava valley.  Half of their rambling farm, which has been in the family since 1920, was confiscated under Tito, the Communist leader of former Yugoslavia during the Cold War, only to be returned in 1986. "The private sector was destroyed under Tito," says Valter. Tito's faded image still adorns the front of the farmhouse but there are plans to paint over it: "not my history" says Klemen, Valter's son.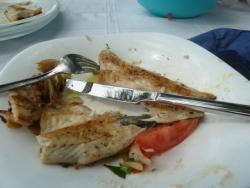 Klemen adds that it's not hard to keep their vineyards organic. "You don't need pesticides," he says. "If you don't force the plant, the pests keep an equilibrium with other pests and don't do too much damage." Their pride and joy is the 2007 wine Ana, named after their grandmother, which tasted gentle and fresh, and blends Chardonnay (75%) with Malvasia, Tokaj, Rebula and Pinela. It was particularly good with the springy spelt risotto that Valter's wife Innes served with it.
This viticultural, father-and-son tradition is evident just kilometres along the valleys at the Batic vineyard. Here, 30-year-old owner Miha Batic cracks open a range of his natural wines so we can sample them in sun. His children are already slated to take over his business, he says. "When you're born in this country, no one asks you who you're going to be," he says, "because you already know".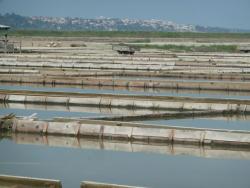 Slovenia has only 30 miles of coastline which is why the locals treasure Piran, a charming gem of a place with a Mediterranean feel. The little medieval seaside town is just 15 miles from the Italian border. Its higgledy rooftops, pink narrows of housefront and fish-cobbled alleyways make it distinctly Italianate in style. When we visited at the start of May, they were just kicking off a Salt Festival because the town built its fortunes on the snowy stuff.
Traders would sail across to Italy, sell the salt sieved from the Piran salt pans on the outskirts of the town, then celebrate with banquets and acrobatics on return in the square. The saltpans themselves host 270 species of migrating bird and have been tended as a nature reserve where at least 35 artisanal salters, who own their own pans, harvest between 2,500-3,500 tons of salt per year. Last year they panned a capital 6,200 tons but it's a fickle business, salt. In 2010, a few days of rain meant none at all.
There are seven kinds of Piran salt to rival such salts as Himalayan seasalt, apparently. It instantly lifts the local fish, which Pirana restaurants serve with gusto. We tried some local seabass at exclusive restaurant Rizibizi, creamy and organic in everything but name.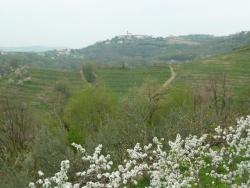 The fish came from the Fonda family fish farm  within the salt pans. Glamorous co-owner Irena Fonda, ditched her biologist career to continue the family business with her bro Lean when their father died last year – it was his dream "to be good to the fish".
The family harvest mussels and seabass on their fish farms which are within the Piran gulf and fed by Adriatic waters. The farm comprises a series of circular nets each thriving around 25,000 fish and operates like an artificial reef.
In temperament, says Irena, seabass can be vicious and predatory – just as well they're in nets. They also live up to 80 years, "like humans," she says, although Irena believes in many ways they're nicer. The firm rears its fish in eco-friendly conditions – no anti-vegetative agents on the nets to keep them sterile (the fish relish the dirt, she says), and natural fish pellets – which tasted of anchovy when I, craving lunch, crunched on them.
Queen Elizabeth, she says, has eaten their fish and despite being a small, artisanal farmer, demand for their products outstrips supply by three. But you can't do organic – although they are not yet certified – on a mass scale so they are looking to franchise similar ethically-minded suppliers in Croatia, just over the bay.
We had some meaty seabass carpaccio, petrol in colour and very good with just salt and bread, combined with a fresh tomato salad, braised fennel and thyme-y courgette. Crunching on mussel beard during the garlic mussel starter was a surprise but Irena told us that removing mussel beards while the bivalves are still alive is "torture" (for the mussels I think) – so she leaves them on out of respect.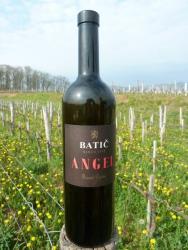 That sensitivity to living organisms is an attitude the farmers and growers we met shared and can't be a bad thing in a land where goose, goat and snuffling pig harmonise the vineyards.
Anita stayed at the Kmetija Stekar suites in Brda – a mini wood-panelled cabin with mezzanine floor/bed www.kmetijastekar.si; and Hotel Tartini Piran