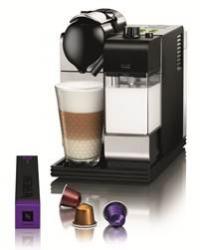 Making coffee in the morning can be a bit of a grind. Bleary eyed searching for that caffeine hit can be a frustrating experience. In a mission to provide the ultimate coffee experience for milk lovers, Nespresso is launching Lattissima+, a new 'one-touch" milk solution machine. Do you enjoy a morning Cappuccino, Latte or Latte Macchiato? Well, with a simple push of a button, the Lattissima+ delivers a cup in under a minute.
The system is based on Nespresso's capsule technique, which allows you to easily utilise different blends. They also have seasonal blends, with a cherry coffee among the winter options this year.
The machine's auto power-off feature and overall optimized energy consumption profile also means it is one of the most energy efficient machines to date.
Lattissima+ is small and easy to use, and comes with an automatic cleaning button. Furthermore, Lattissima+ suits any cup size – be it a mug or macchiato glass – thanks to the sliding drip tray. The easy-to-use handle invites you to insert your favourite Nespresso Grand Cru capsule to produce the perfect in-cup result, time and again.
Available in four colours: Silky White, Passion Red and Midnight Blue from £229 and Ice Silver from £249. Lattissima+ is available in all Nespresso Boutiques, the Nespresso website (www.nespresso.com), leading department stores and independent cook shops.