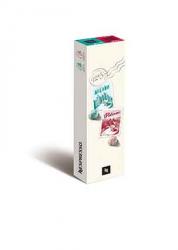 Each year Nespresso creates limited edition coffees forClub Members, as well as deliver new taste experiences to coffee lovers. This September, Nespresso is launching Tribute to Milano and Tribute to Palermo, two new Limited Edition ristrettos which pay homage to the diversity and richness of Italian coffee culture, inspired by two contrasting cities; Milano and Palermo.
The new Limited Edition ristrettos are made with the finest Arabicas and Robustas, to deliver an extraordinary coffee experience.
Both Limited Edition ristrettos will appeal to fans of intense coffee and can be enjoyed black and also blended with milk. Enjoy tribute to Milano in a Latte Macchiato which offers a creamier, milder taste with caramel aromas. Or Tribute to Palermo in a cappuccino, without sacrificing any of this blend's full body and powerful character.
Tribute to Milano and Tribute to Palermo are available from Nespresso boutiques and online at www.nespresso.com from for a limited period priced at £3.80 for a sleeve of 10 capsules.
TRIBUTE TO MILANO
A highly aromatic ristretto blend of Arabicas from South and Central America reinforced with a washed Guatemalan Robusta. The elegant result gives a delightful balance between fine fruity aromas and a sweet cereal note.
Intensity 9.
TRIBUTE TO PALERMO
Intensely roasted to bring out aromas of cacao and spicy peppery notes. Full-bodied, this ristretto is enhanced by a silky texture for mouth-filling pleasure. A powerful blend of East African Arabicas and Robustas.
Intensity 11
Pay tribute to the two Italian cities with recipe ideas to maximise the flavour profiles: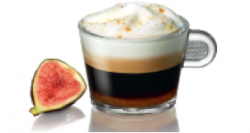 Fig & Honey Cappuccino
INGREDIENTS
1 tea spoon fig jam
2 tea spoons honey
2 capsules of Tribute to Milano (25ml)
Cantuccinis to decorate
Milk
1 glass Cappuccino cup
1 Aeroccino milk frother
INSTRUCTIONS
• Put one tea spoon of fig jam in a cup.
• Pour 2 Tribute to Milano ristrettos (25ml) on top of the fig jam.
• Make some milk froth with one tea spoon of honey.
• Pour the froth on top of the coffee.
• Sprinkle half smashed Cantuccini over the top and serve
Rosemary & Raspberry Latte Macchiato
INGREDIENTS
2 tea spoons of raspberry jam
2cl rosemary syrup
1 capsule of Tribute to Palermo (40ml)
Milk
1 Recipe Ritual glass
1 Aeroccino milk frother
INSTRUCTIONS
• Put the raspberry jam in the glass.
• Make some milk froth together with the rosemary syrup.
• Pour the froth in the glass and then some hot milk.
• Pour the espresso on top and serve.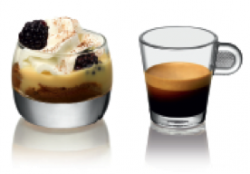 Blackberry Tiramisu
INGREDIENTS
2 capsules of Tribute to Palermo
4cl amaretto (or 3cl amaretto syrup)
1 ½ Tiramisu biscuit
Vanilla cream dessert
Mascarpone
Cream
Blackberries
Cacao powder
1 small glass container
1 glass espresso cup
1 siphon for the cream (and 2 gas cartridges)
INSTRUCTIONS
• Soak 1½ biscuit with the amaretto or syrup and put it in a small glass – make sure to take out any remains of coffee.
• Add 2 tablespoons of vanilla cream dessert.
• Put the glass in the fridge.
• Add some blackberries.
• Make the tiramisu cream (half mascarpone and half cream during 5 seconds in a blender).
• Put the resulting cream in a siphon.
• Put the cream on top of the blackberries and sprinkle with some cocoa powder.
• Serve with a Tribute to Palermo coffee.