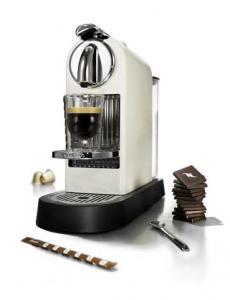 Home coffee makers promise a lot but rarely deliver. Gleaming machines with intricate plumbing, sleek looks and fancy ad campaigns they invariably make all the right gurgling noises but deliver coffee as weak as water.
So we viewed the Nespresso machine with cynical eyes. God knows we need a decent coffee machine in the office; the price of decent coffee around Carnaby Street is high even for the directors and totally prohibitive for the interns who already sleep under their desks to save money.
The Nespresso impresso'd straight away because it has a small 'footprint' as the IT man said. What he meant was that it didn't occupy space he would rather be dedicated to some external hard driver or whatever. This is equally important in the kitchen where gadget proliferation means no room for fat machines that don't pull their weight.
It's not just slim, it's trim. It's no coincidence surely that George Clooney is the marketing face. He fits the image like a glove – suave, cool, dark etc. A bit creepy too, but maybe that's just me.
Unlike our previous test machine, the Senseo from Philips, this didn't need a careful pre-read of the instruction manual as assembly couldn't have been easier. Fill tank with water, plug in, flush through and then go for it.
The coffee cartridges load in a pleasing military hardware fashion – raise lever, insert cartridge, lower lever to cock the machine and then lock and load. Put cup under spout and choose from single or large shot. Off you go.
The aroma is instantly Italianately right and had heads popping up like meerkats from behind monitors. The coffee looks right too, slightly frothy, rich and glossy. Not too much noise either, just a hum from the compressor that drives the pressure.
The model we had on loan was the CitiZ, about right for home use although there are other models for different needs, even one designed by Porsche that will set you back a load of money. Nespresso is also a philosophy as much as a machine, you can't buy the coffee capsules in shops only online through membership of the Nespresso Club. This club even has its own magazine as well as flagship style boutiques with headquarters on the Champs Elyssee and on our own Beauchamp place.
There are sixteen varieties of coffee available for the Nespresso, including three decaf options, and each is apparently the result of intensive tasting and selection of bean varieties giving coffee drinkers a true bespoke selection of the dark stuff. The coffees are sourced from eco-friendly and sustainable places too. They even have a recycling programme for your used capsules, although only one exists so far in the UK.
So what does it taste like? Very good indeed, Nespresso seem to have cracked the problem of recreating a Gaggia in the home. The machine works almost instantly, only requiring about 30 seconds to 'warm up' and then only if it has been allowed to stand idle for any length of time.
No problem in our office, the Nespresso was in use 24/7 with queues forming at busy times of day. It really was a wrench to see it go, with capsules around 26p a go the money we saved was considerable and the coffee drunk far better than from a certain local high street chain.
Nespresso machines have been a gurgling success, you'll find them in top restaurants, including The Fat Duck, and sales have gone through the roof since the launch just a few years ago. If you are real foodie, then having one of these in the house is simply a no brainer; you won't get better coffee from any other machine on the market or probably anywhere else west of Naples.
The price for the single CitiZ machine is £149.
For more information and stockists go to www.nespresso.com or Freephone 0800 442 442