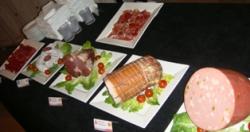 So, following my cordial invitation from the Italian Trade Commission and the Istituto Valorizzazione Salumi Italiani to a Press Conference on the subject of 'A celebration of Italian Cured Meats in Europe' I dutifully trotted along to the Haymarket Hotel in Suffolk Place and took my place among the myriad of foodie types from the disparate parts of this media. With my glass of sparkling water in hand – well it was only 10.15 in the morning – I sat in the front row, only to see before me a huge slicing machine with a whacking great whole prosciutto on it and my immediate thought was 'I really want to have a go at that' – the slicing machine – well, truth be told, both actually!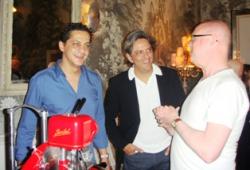 The campaign reached these shores via Belgium, France and Germany and the intention is 'to educate' those in its path about the quality of Italian cured meats. The 'conference' itself was quite short, introduced by representatives from both the institute and the trade commission, in which they told us about issues such as protecting the provenance of the produce, the greater demand from customers to know exactly where it comes from and the scale of the market in this country. Chefs Giorgio Locatelli and Francesco Mazzei then started to wax lyrical and enthusiastically about the produce, becoming more and more excited about its use and their efforts, in the past and now, to ensure that they source the very best artisan products. They told us that these regionally produced cured meats had individual character, the maturation of the product being affected by each area's unique climactic and other conditions. And then the tasting began.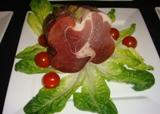 Having had no breakfast, fortunately as it turned out, this cured meat fest was very welcome. So, with Giorgio and Francesco alternately using the slicing machine my envy grew, but my stomach was saying, 'no, no, try the meats!' so, naturally I did and having nibbled at a few I noticed trays laden with both red wine and Prosecco, well, by that time it was 11.30 a respectable time to have a glass of bubbly in anyone's book, so I yielded to the temptation. With glass in one hand and plate in the other I mingled with invited guests and officials nibbling and sipping as I did.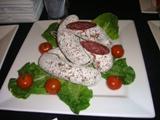 Bresaola della Valtellina PGI, Mortadella Bologna PGI, Prosciutto di San Daniele PDO and Salame Cacciatore, were the stars of this show. The Bresaola, sliced thinly was a beautifully tender, full flavoured meat, it was a joy to eat. The Mortadella, was initially presented to us in, roughly, 1" cubes and was another excellent well flavoured meaty mouthful it was then offered to us thinly sliced, remarkably, this somehow enhanced its flavour, maybe something to do with taking in more air in your mouth with the meat, but there was a subtle difference that made it fuller flavoured. The proscuitto was again a beautiful meat, with a slight saltiness it was amazingly good. The salami, was sliced quite thickly, it was much softer than most Salami I have tasted, hence the thick slicing, it was also a more refined product, but like the others, this meat had great flavour. There were other meats on offer to taste, a great pancetta which although a little fatty, was excellent to eat freshly sliced from the joint. There was also some cooked ham which again was beautiful.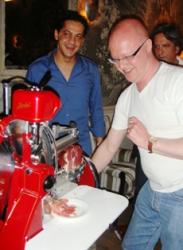 Having nibbled and slurped, my desire to use this marvellous monster of a machine got the better of me, so off I went and asked Francesco if I might have a go, He was only too pleased that I should and loaded it with a hunk of meat, gave me thirty seconds instruction and off I went, I loved it, Having cut a dozen or so slices he invited me to taste the product of my effort, which of course I did and naturally, it tasted all the better for my having sliced it, albeit aided by the machine. I loved it. How much do I want one of those machines!
This event was very much the forerunner to the campaign, it's official launch is in early June, and after that there will be opportunities for you, dear reader, to attend an 'Aperitivo' (happy hour) between 5.30 and 7.30 at one of six locations, where tastings of these meats will be complementary and at which guests will receive a brochure about how the meats are made. The details of these are below:
14-18 June – One Lombard Street (www.1lombardstreet.com) and Mews of Mayfair (www.mewsofmayfair.com)
21-25 June – The Anthologist (www.theanthologistbar.co.uk), and The Living Room (www.thelivingroom.co.uk)
28 June-2 July – Dover Street (www.doverstreet.co.uk) and Raoul's (www.raoulsgourmet.com)
At these events these meats will be sliced by specialists using MY meat slicer. In addition, Partridge's delicatessen in King's Road will be holding daily tastings during this period.
For more information contact the individual venues through the above addresses, go along, try them, you'll be amazed at the flavours.