four o nine, 409 Clapham Road, London, SW9 9BT Tel: 020 7737 0722 www.wix.com/fouronine
Occupying the first floor area of The Clapham North Pub, which lies opposite Clapham North Underground Station, four o nine has its own discrete entrance accessed via an entry phone controlled door to the side of the pub in Landor Road. This slight quirkiness somehow lends the restaurant an air of exclusivity, giving you the feeling that you are entering a private dining club. The decor throughout four o nine is warm and inviting, tables are well spaced, there is well upholstered banquette seating to two sides and comfortable dining chairs throughout the remainder of the restaurant. A good sized bar area completes the scene.
The menu at four o nine has six starter choices and six mains. For starters we chose the English asparagus with boiled duck egg as well as the pigeon breast and leg with black pudding. The asparagus was well cooked, just al dente; it was accompanied perfectly by the egg, a classic combination, some tender jersey royal potato slices and a delicate mint vinaigrette. The pigeon was quite a creation, the breast, cooked medium rare, it was tender as was the leg meat and both had good flavour, served with sliced and pan fried black pudding, the dish was dressed with fresh raspberries – a little odd I thought at the start, but it worked – rocket and toasted almond slivers. All this was brought together very nicely by a light but tangy dressing. These were two very good and well constructed dishes which we enjoyed immensely.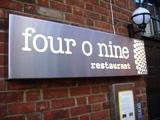 On to mains. The chicken breast which had a crispy skin but retained good moisture and tenderness, was served with tiger prawns that were cooked well and were a good accompaniment. Some broad beans, spring green, samphire and roast cherry tomato completed the dish perfectly. The pan fried Cornish turbot was a perfectly cooked meaty hunk of fish. It came sat atop a bed of new potatoes, and samphire. The dish was finished off with a citrus and thyme dressing that incorporated pink grapefruit and orange flesh, this working well with the fish and its supporting vegetables. Each of these were quite substantial and very tasty dishes.
Four o nine's dessert range also offered six choices plus a Neal's Yard cheese option. We went for the hot chocolate fondant, for which we had to wait 15 minutes as it is made from scratch, as our server and the menu told us: it was worth the wait. I have to say that it is one of the best I have tasted – and I have tasted many – divinely gooey in the middle, it oozed a thick chocolate lava as I cut into it with my spoon, this was served with a a good stracciatella ice cream which complemented it well. The passion fruit bavaroise was also a seriously good confection, the crème topping vibrantly flavoured by the fruit and sat on top of a good lemon sponge base, it was finished off by a hazelnut crisp. These two dishes were nothing short of excellent.
Wines at the four o nine are reasonably priced we had a good white with our meal. We also succumbed to espresso martinis from their cocktail menu to finish and these slipped down exceedingly nicely, we would heartily recommend them. Service was attentive and helpful, they look after their customers very well. This restaurant is very popular and understandably so, they are serving great food at reasonable prices. We went there on a Thursday and it was full, so booking early is advisable. We understand that midweek you can take advantage of their tasting menu at a cost of £37.50 per head (£40 with cheese) which we thought was very competitively priced from what we saw neighbouring diners eating. This is place that is definitely worth putting on your list of places to try.