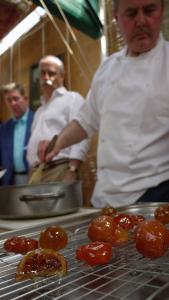 My mother being Genoese, I was particularly interested in attending a workshop by Liguria's most esteemed confectioner, 'Pietro Romanengo fu Stefano'. Located in 'La Superba's' medieval centre, Via Soziglia, the sugar monger beloved by Verdi has crafted sweet pleasures for nine generations. To demonstrate their craft, Romanengo's ambassadors travelled to Richmond…
After a 25 minute Thameside stroll from the station, I reached the afternoon's whimsical setting. Crouching the foot of the Baroque stack of Petersham House, a collage of tables sprouts in a decorated greenhouse. Persian throws and prints are roped to glass walls providing shade and intrigue. Honeysuckle and palms lushly dangle and climb.
Romanengo are legendary for conserving the depth of flavour of whole seasonal fruits, including Ligurian wild black cherries, apricots and small bitter citrus, 'chionotto', as well as Tuscan chestnuts and Sicilian oranges. Once carefully selected, these are laboriously submerged in sugar syrup and sometimes embellished with plasticine bright and smooth marzipan. The coating's colouring represents the only concession to anything artificial; the quest for a natural tint continues…
Cocoa goods, including finely textured bars shaped and lined like dominoes, come from beans conched over 72 hours in a mechanised granite pestle and mortar – possibly the oldest such contraption. Incidentally, master confectioner, Enzo Fortunato (demonstrating) does not favour 'the fad of 90% cocoa chocolate' and prefers a purer product free from soy lecithin.
Manna from Heaven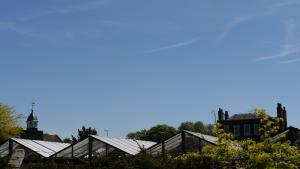 Amongst the jarred goods, 'Manna' is a speciality made from the resin of the 'frassino' tree from north eastern Sicily. This is collected in cones attached to the trunk by lingerie like silk strands. Also present, Delfina Romanengo, whose smile revealed a lifelong zeal for confectionery, said that Romanengo's version is 'better than the biblical Manna' which the book describes as 'Manna from heaven'. It is, alas also, a mild laxative.
Following such sweetness, we momentarily segued into the somewhat savoury via chef/author Skye Gyngell's menu. Despite my fear that this Australian's food could emulate the hectic, sloppy fare I experienced at Hammersmith's 'River Café' (Rose Gray's daughter Lucy oversees the nurseries' edible gardens), it proved somehow more heartfelt: deeply nourishing on many levels, although potentially, just as expensive.
Pierced with reassuringly heavy, classic cutlery, the sanguine juices of roast quail fused with a preparation of Romanengo's rose water and Middle Eastern spices. The all too fleeting Romanengo chestnut ice cream which followed was spun with airy, fractured meringue crystals.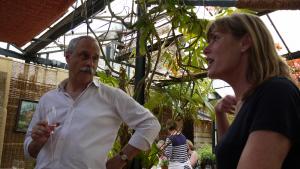 As blades of antiquated fans meandered, I felt reluctant to leave. I later learnt that Gyngell, the daughter of late media baron, Bruce Gyngell, endured a 20 year heroin addiction. In contrast to what one speculates must have proved two decades of massive personal strife, she has created, over five years, a haven in Petersham served by a solid kitchen.
I replaced my smart linen napkin, which contrasted the bare earth floor. Petersham's enchantment was briefly broken when I spied a dog, confused by this unconventional carpet, relieve itself upon it.
I wondered into the blazing sunshine with what I can only term sugar sweats…
Romanengo provisions are available at Petersham Nurseries (www.romanengo.com)
www.petershamnurseries.com – Church Lane, Off Petersham Rd, Petersham, Richmond. TW10 7AG