Byron, 341 Upper Street, London, N1 0PB Tel: 020 7704 7620 www.byronhamburgers.com

Now, I'm not the most literary person, but two quotes came to mind about Byron, the first when I initially heard the name, and the other one a little while after we got there. Call me obvious, but my immediate reaction was to think of Lady Caroline Lamb's description of Lord Byron as 'mad, bad and dangerous to know' (apropos of nothing, I always hoped that Michael Jackson would release an album called 'Mad', but I digress), none of which are great epithets in respect of a restaurant.
Byron is a small but expanding chain of burger restaurants, focusing on good quality meat, well-cooked and simply presented. We went to the Islington outlet, slap-bang in the thick of things on Upper Street, and as we approached, we did something of a double-take, as the exterior is what design types might call distressed and one of the restaurant's staff referred to as 'industrial chic'.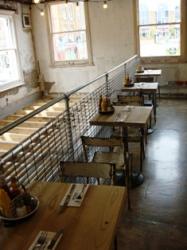 The interior doesn't just pick up the theme, it buys it a drink and a bag of chips before taking it home for the night. Everything is stripped back: walls are bare plasterwork, some showing cracks and other damage, furniture is mis-matched, and in some cases showing decades of wear and tear. It was only when we sat down and took a good look that we realised how much thought and planning must have gone into the decor; part of the first floor has been sacrificed, stripped back to bare joists, creating a sort-of atrium, and giving the ground floor a brightly lit, open feel. And here's quote number two, courtesy of Dolly Parton – 'it takes a lot of money to look this cheap'. Okay, that's slightly unfair, Byron does have a strange derelict industrial look, but it doesn't look cheap, and it's certainly unusual.
Once you get past the interesting look of Byron, what about the food? While we mulled over the menu, we had a dish of what it calls 'proper' olives. Of course, this immediately made me want some improper olives, but that wasn't an option, sadly. But the proper olives were very good, unpitted and full of flavour.
But really, it had to be burgers; when in Rome, and all that. The Cheese has a number of cheesy options, we went with mature cheddar, and it was very good, the char-grilled burger cooked medium, was nicely pink and juicy, and full of flavour, the cheddar giving welcome bite on the palate. We also had the Byron, which is basically the Cheese with bacon, and this too was very good, the bacon adding a nicely smoky salty tang. The accompanying buns were light, as promised, although there's skinny option for the carb-conscious.
There were three side dishes that appealed to us, and choosing just one or two was way too difficult, so we went for all three. The chips were very good, skin-on (so we could tell ourselves that they were better for us) and crispy; onion rings were also a success, four fat rings in a herby batter that was just the right consistency; and best of all, the courgette fries were lovely, the crunchily coated slices had kept their texture nicely and the frying seemed to bring out more of their light flavour.
At this point, saner people than us would have said enough, but we were seduced by the desserts. The blackcurrant Eton mess was a good pud, nicely creamy, with squidgy meringue, and a delicate tang of the fruit coming through. Knickerbocker glory was also enjoyable, the combination of cream, cherries and chocolate ice cream hitting all the right notes; it was, in our view, the better choice.
Byron offer four white wines and four reds, each available by the glass, and described as 'good', 'better', 'great' and 'best'. We tried the 'best' white, a New Zealand Sauvignon Blanc, and it was very good; crisp and refreshing, then later we had the 'good' red, a South African Pinotage, which we also enjoyed.
Service at Byron was friendly and knowledgeable, and staff are clearly very enthusiastic, which is always a good sign. As we waddled out, the belt-testing amount of food we had got through gave the Lamb quote some weight – it was slightly mad, but in a good way. So if you're interested by the prospect of a good quality burger in quirky surroundings, Byron could well be the place to know.