Tideway Yard – Mortlake High Street – Barnes – London SW14 8SN www.depotrestaurant.co.uk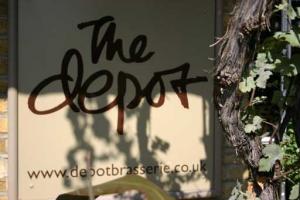 Bank holiday weekends can be hit and miss affairs. If you rely on the weather and head to the coast, then you're undoubtedly going to suffer hours of car crawling misery. And if you stay local, you question whether you're being adventurous enough and making the most of the time. And if you don't make a decision until the day unfolds, it's too late; you may as well stay at home and do some jobs round the house.
We recently did something in between, (which at one point seemed like the worst decision we'd ever made) we decided to drive from North to South West, not to the coast, but to the river, to meet up with friends in their favourite local restaurant, The Depot in Barnes. I won't bore you with the details of the drive, needless to say it was ugly at times with a lot of 'Who's bloody idea was this?" but when we arrived it soon became apparent that this was a hit. It was also apparent, as guests began to pour through the doors, that this place is clearly not only a local 'fave', it attracts the 'destination' and 'celebratory' crowds too, all dresses and high heels, presents and flowers to the fore. Everything felt familiar and relaxed, but somehow special and exciting at the same time. You wanted to people watch, but you also wanted to just kick back and put your feet up; almost home from home.
We sat down at 4pm (an hour later than scheduled!) and couldn't believe the restaurant and lounge area was still more or less full. Sadly no English asparagus left by the time we did order, but starters of tuna carpaccio, mozzarella and sweet peppers with aubergine caviar and broccoli and rocket salad arrived promptly. The dressing on the tuna pungent with ginger and garlic and the mozzarella soft and bouncy with a good combination of ingredients and stylish presentation.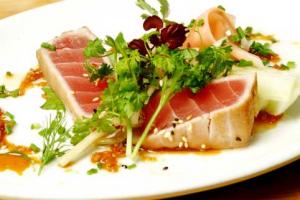 It's a well considered wine list with plenty of reasonably priced choices. White Rioja is often overlooked, but it's a good food wine and reasonable value and it complimented my mozzarella starter well. Main courses followed and, considering the kitchen was still clearly under some pressure, they arrived promptly and looked really appealing. Lamb shank with spring vegetables was succulent, falling off the bone and full of flavour. We suspected it might be spring lamb from the Welsh borders, but t wasn't stated as such and we didn't ask. Cod was a glossy white, fresh and firm with earthy, caramelised beetroot, which proved a clever combination. Spring garlic failed to stand out but the bean stew accompanying the pink duck breast was satisfyingly creamy and we all tucked in, appetites whetted by the attractive look of the food. The rosette had to be awarded to the roast beef though. It was quite simply the best I've had in this city with a rich jus that made me think 'I could make this journey every Sunday." Eton Mess and Apple Tart induced happy, tummy rubbing gestures while we considered pitching up long enough to find room for cheese. We deliberated long enough that it would have been rude not to. It's an unspoken thing….when you're child free, you've just got to go with it and to hell with the consequences (hangover)!
Their un-fussy presentation demonstrates an underlying confidence from a competent kitchen team. The food looked good, tasted good and was pretty good value at around £14 for main courses.
The atmosphere in the restaurant was a buzz of conversation and energy with charming staff, all smiles and grace. Cool ambient music, big picture windows and French doors open, to invite a warm breeze in from the river and frame the pretty views, all made The Depot a lovely place to be. Did we want to leave? No, absolutely not. And neither of us wanted to drive back either. So we didn't; we stayed the night at our friend's and went back the next day for brunch. Well, we had to pick the car up! And we needed to be happy and full at least, before we made the journey back……. all 15 miles of it, in relentless and predictable bank holiday Monday rain!