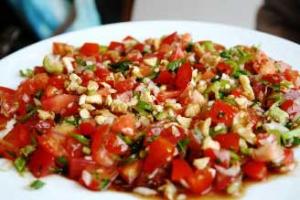 After a recent trip to Istanbul, I was so inspired by the wonderful culture and traditions of this beautiful city that I decided to come back to London and share some of my eating experiences with you. As the weather seems to be hotting up nicely, I thought this wonderfully tasty 'Gavurdagi' salad – which takes it's name from a mountain in Anatolia – is the perfect dish to kick-start my series of 3 authentic Turkish recipes.
This dish is traditionally an accompaniment for any kind of grilled meat, but what really made it so appealing to me was the unexpected presence of pomegranate syrup in the dressing; it provides a rounded acidity that elevates the dish greatly, transforming it into a mouth watering accompaniment worthy of being a main dish in itself.
Serves 4
Ingredients
8 large vine ripened tomatoes, finely chopped
1 small white onion, finely chopped
1 small packet of flat leaf parsley, finely chopped
2 handfuls of walnuts, broken into pieces
1 tablespoon of pomegranate syrup
3 fat green chillies, thinly sliced (Jalapeno is the closest we have to the ones used in Turkey)
1 teaspoon of sumac (you can get this spice in most supermarkets now)
Juice of a whole lemon
3 tablespoons of olive oil
Maldon sea salt
Method
This is a rustic dish. There is no fussing, precision or exacting. Simply mix all your ingredients well in a bowl, season with a couple of teaspoons of Maldon sea salt (or 1 teaspoon of normal salt), mix well and simply plate up. How hard is that?
Some grilled meat or fish would be the perfect accompaniment, but for a glutton like me, I can quite happily munch on this salad all by itself.