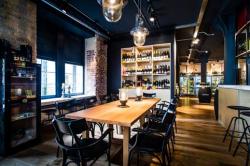 It's mystifying how D&D London managed to grab such incredible real estate for their latest ambitious venture: Walk out of Liverpool St Station, cross Bishopsgate and New Street lies straight ahead; a quiet little cul-de-sac that should more accurately be re-named D&D Street, because the group has pretty much taken over the whole street, cleverly converting the City's oldest surviving warehouse. Originally this impressive property was built by the East India Company, who knew a thing or two about teas, spices, cigars and port.
At one end of New Street is the newly launched New Street Wine Shop. Next door is a buzzing and bright new Fish Market brasserie. Next one along is the opulently dark New Street Grill, adjoined to which is the sexy Old Bengal Bar EC2 with its New York-style exposed brickwork and an al fresco terrace – an urban oasis of tastefully neutral banquettes strewn with plants and white cushions.
D & D London – aka Des and David, the grey foxes of the powerful London restaurant empire  – were sitting at the table next to us in the Old Bengal Bar. They were tweaking the lighting, pre- official opening, as we chatted with the supremely chipper Bar Manager, Milos Popovic (previously at Pont de la Tour, then poached from Claridge's). It was intriguing to watch their commitment to perfection in action. I imagined them tweaking the lighting at Skylon, the Bluebird Café and le Coq d'Argent, which they also own… but was willingly distracted by Popovic bringing us a £1,000 vintage bottle of rum, which he'd bought at auction.
While we cooed at this beautiful bottle, he whisked us up a zesty cocktail patriotically named British Gardens; a fizzing melange of mint and cucumber. However the cocktail with which he truly wowed me was actually'off-the-menu' – a rum-free'G&T Mojito' – my two favourite drinks wittily knocked in to one because I just couldn't decide between the two. Popovic is one cocktail alchemist with an easy charm that's a dead-cert winner for any new bar, let alone one in London's discerning City, where strong labels just have to be backed up with attentive service if they expect loyalty and longevity.
The reason we were on New Street, however, was the launch of the New Street Wine Shop, which officially opened this week. "The room was so much larger in the end than the original plan seemed to show!"Des Gunewardena, Chairman & CEO told me, grinning. You got the impression they'd overcome far more challenging hurdles than that in their time. What it meant, he explained, is that they had a lot more shelf space to fill with stock, which can only be a good thing for those bulk corporate orders I imagine. The shop has an elegantly wooden decor, with two sharing tables for clients to sit and slurp at (they could be there some time, given that the shop houses no less than 600 varied bins and a'stay-put' menu of moreish charcuterie, cheese and olives).
The shop specialises in rare and fine wines, particularly from Bordeaux and Burgundy, like the famously rare ChâteauPalmer from Margaux, 1988, 1989, 1990. The good news for wine connoisseurs are the three enomatic dispensers that allow for the tasting of some carefully curated vintages. Calibre Grower Champagnes hail from lauded appellations from Jérôme Prévost to Ulysse Collin, while new world wines are also stocked, with plenty of more affordable bottles too and those from upcoming countries including Brazil, Croatia and China. Premium spirits are also sold, including top quality vintage brandy Cristal Head, Oxley, NËš209 and Calvados Lemorton 1963. Instead of being grouped by region or grape variety, bottles are colour-coded into seven taste categories, rather as they are on a trendy restaurant menu. An apple green tag, for example, denotes a'fresh, youthful' white, to an amber label describing a "rich, elegant' white. At the other end of the spectrum of reds, Crimson means'balanced, complex' and a dark Cassis'dense' and'velvety'.
But for more precise advice, appealing to the award-winning Master Sommelier Nicolas Clerc (UK Sommelier of the Year in 2007 and Best Sommelier at the Tatler Awards in 2010) and Claudio Martins, is highly recommended. We tasted six Champagnes that evening, from the well-balanced House Champagne served at Chez Bruce and The Ledbury: Brut Reserve Bereche & Fils – a blend of 35% Chardonnay, 30% Pinot Noir and 35% Pinot Meunier (sold here for a bargain £36.50 a bottle). To my favourite: the gently Brut Val Vilaine Inflorescence, Cedric Bouchard, "with a hint of reduction on the nose", so our sommelier told us. To me it was simply beautifully elegant and balanced, so I silently punched the air as Master Sommelier declared that this 100% Pinot Noir beauty was his favourite too.
The Old Bengal Warehouse is a late 17th Century building once poetically described by John Masefield as holding "the wealth of the world and London's power." He was ahead of his time, because when the City boys catch on to these D&D London gems dotted along New Street, you'll need to book weeks, nay months, in advance. Catch them now before the masses descend.