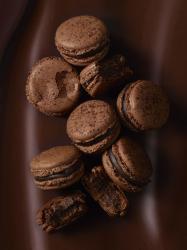 Went to a posh chocolate event the other night. Chucked in the words Bounty and Lindt in my questions for a reaction. Audience wasn't feeling it. Proper died on stage with those ones, so you could tell it was posh. It's not pretentious posh, it's impeccable chocolate. I'm not a chocolate head, but when you've had really, really good quality chocolate, only a Cream Egg survives in comparison.
What I really like is good staff. Be part of what you're doing if you're passionate about it. And they are, massively. You can get an instant almost scientific response to even the smallest of questions. It's like mucking around with Google. Try it, I know loads more about chocolate now. Popular food, bet it has loads of Facebook friends.
Chocolate and coffee categorise together in my head. All to do with the beans I think, you often get them described to you in the same way. All South American and African sounding places with jungles and rainforests where the beans are as pure and natural as Disney's next media superstar. I didn't hear anything about the beans being pooped out by a ferret's cousin, but I'd try it if it had been.
Macarons. Definitely a spike in macarons at the moment, at least in my world, quite partial to them. I often come across a food item that I've taken for granted. There's real depth to macarons – how soft do you make them, what filling do you use, shall we paint them? I caved into the group strategy of bite-in-half. I'm usually a down-in-one kinda guy, bit disappointed in myself for that. Maybe I'm growing up. They're brilliant and not expensive. Should have stuck to down-in-one.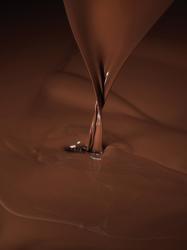 Bonbons. Thin squares of chocolate apparently. Some crunchy, some deep rich velvet textures, some fruity blighters. Of course they're good, knock the socks off an advent calendar. The Nougatine Infiniment Chocolat is a star, could easily win Choc Factor. Standing judges applause and everything. It's got bits of cocoa bean seasoned with salt and Sarawak pepper. You'll thank me for that one.
Galet Intense. Chocolate button – the sort of end product chocolate button that you'd see on an episode of Pimp My Chocolate Button. It's got the highest quality ingredients, it's the most popular and, get this, you can do a chocolate quality test on it. Now, Olivier, who deserves a mention because this fact has stuck in my mind, taught me that you can check for a good quality chocolate by the teeth grooves left in the chocolate. If you bite it in half. I didn't. I'm a down-in-one guy. Should have stuck to bite-in-half. This chocolate stuff is hard. Amazing chocolate button though, I'll buy them if I'm nearby.
I've got to be honest, there's a load more variations I could waffle on about but, seriously, there's tons more, and I waffle too much already, so let's wrap it up. There's a noticeable talent for shortbread that's worth a shout-out. Think mum needs a change from Thortons this Christmas, but I'll still get some toffee though.