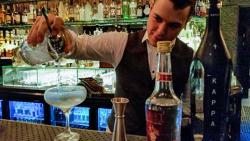 You may or may not be aware that it's currently London's first ever Pisco Sour Week, a city-wide celebration of (arguably) Peru's most delectable export. The week-long festival follows in the footsteps of the National Pisco Sour day, which is celebrated throughout Peru on the first Saturday of February.
For the uninitiated, Pisco is a clear, unaged Peruvian brandy made from grapes, and the classic Pisco Sour combines it with lime, sugar, egg white and bitters. It was first developed in Lima in the early 1920s as an alternative to the classic Whisky Sour, and has since swept the US and Europe with its tangy, frothy charms and is gaining popularity in spades – Soho's Chotto Matte makes upwards of 500 of them per week, eclipsing mojito sales.
I headed to Chotto Matte for a little lesson in all things Pisco, and indulged in a masterclass with excellent Bar Manager Fabiano. Draped in an authentic poncho, I whipped up the classic sour, as well as a pineapple and coconut version.  My favourite was the Jasmine Tea Sour, made with home-infused jasmine Pisco, which had a subtle flowery aftertaste that still packed the punch of the original.  They are all on the menu at Chotto Matte and should be sampled by everyone who enjoys a cocktail. You might as well order some snacks too – the Nikkei (Peruvian and Japanese) dishes are extremely tasty.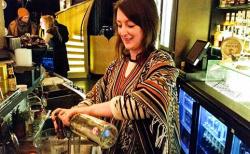 Also involved in the festivities is the beautiful Coya in Mayfair, and they've just launched their new Pisco flight to celebrate. Consisting of raspberry & thyme, rhubarb and Williams's pear flavours, the selection is delicious and a great way to sample the various possible incarnations of the spirit.  You can try the flight for £15. Combined with their heavenly food and service, Coya is the place for a slightly posher Pisco experience.
Lima Floral, Senor Ceviche, Tito's, Tierra Peru and Pachamama are all part of the festival and you can pick up a wristband at any of them that will get you £5 Pisco Sours all week, so there's no excuse to miss out.
Pisco Sour Week continues until Sunday 8th February, there's no website but search #LPSW for more info.
What's the competition?
To win discount vouchers in each of the 7 participating restaurants just upload a photo to Facebook of yourself and a Pisco Sour in each of the restaurants tagging #LPST. (London Pisco sour trail). There are second and third prizes available including masterclasses, Pisco bottles, branded aprons, goodie bags & more! Winners will be announced on the LPSW Facebook page on Tuesday the 10th of February at 2pm.