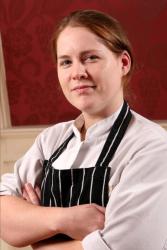 The day would one day come, I knew, when I'd be confronted with pig carcass. And that day came to pass in rural Oxfordshire this winter, and I was armed with a handsaw. I'm not vegetarian so when Peaches, the 13-strong chain of gastropubs, invited me to a butchery session at their headquarters near Bicester I reckoned it was only honest to go. The pig, from Jimmy Butler's farm, had already been treated, so there was not a trickle of blood present but clean chops and the faint smell of alcohol wafting from its hindquarters. Its treatment, having been thoroughly cleaned at the abbatoir, made the session a little less queasy than it otherwise might have been for soft urbanites like us.
The very personable and competent Charlie Barr, Peach's senior head chef, was guiding our session to give us a taster of Peach's first ever 'Pork to Fork" day that will be taking place on Wednesday 2nd February. This will give punters a chance to carve their own chops, cure ham and make sausages from Jimmy's freerange pork. Charlie has worked at Rick Steins Seafood in Padstow and now works at Peach's The Fishes.
Our own pork to fork involved us donning chainmail, so as not to stab ourselves, and wielding the saw across various sinews and muscle and bone of the pig. We cut different chops of meat, first taking out the tenderloin then cutting the pig into primals of shoulder, leg, loin and belly.
We also, in hugely slapstick manner, failed to squeeze sausage meat out of the sausage machine, grinding it up so fine it bottlenecked in the spout. When it finally emerged in tubes, to be fed into natural casings, the naughty slapstick potential was too much to bear and clever Charlie took over.
Impressively resourcful, Charlie ensured the loin became the chops for dinner later, the belly was cut into three for pancetta, the rib-eye went for one of the pub's roasts, the shoulder joint was boned out for a roasting joint, the trimmings from all the belly fat went into sausages and chorizo, and the hipbone was cut out of the leg and salted, to be cured for six months then hung for another six to make air-dried ham.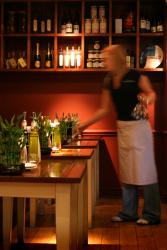 Later, it was off to one of their most popular pubs The Fleece in Witney for dinner and bed (www.fleecewitney.co.uk). The Fleece is a cosy affair on the village green of the constituency of our Prime Minister. I feel that's a cue for a joke but I ain't no comic. So, there's a bar out front and dining area cosseted under oak beams snugged at the back. The Georgian building was apparently once a favourite haunt of Dylan Thomas when he lived nearby. We joined his spirit in a toast of ales.
After a warming poached egg and pancetta salad with some earthy, knobbly black pudding, I had a sauteed Cotswold chicken supreme, wild mushroom, thyme and white wine pie. Interesting combination of chicken next to the pie in deconstructed manner, and a well mushroomy, creamy pie. It was also pretty heavenly to ascend the pearly steps to bed after copious wine at just staggering distance. One wine that Peaches' co-owner Jo Eames sourced, and which I'd particularly recommend, was the smoky, cardamom-heavy Massaya Classic 2007 from Bekaa Valley in Lebanon made by the Ghosn brothers at £26.50 a bottle.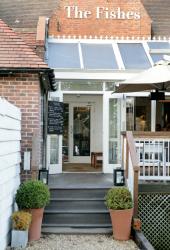 The following breakfast-time we were mortified to hear the sausages we'd sweated over the previous day had been condemned as substandard. Too ground up, apparently, from when they got trapped in the sausage mincer. Not deterred by the slur, we pushed on to another of Peach's pubs, the Fishes just outside Oxford town and off the A34 (www.fishesoxford.co.uk). It's easy to get lost ploughing up and down the main road of North Hinksey village but the locals are obviously used to lost, bellyaching diners seeking its culinary beacon. We were hailed down by a rangy blonde American woman who directed us towards a cul de sac before we'd even asked.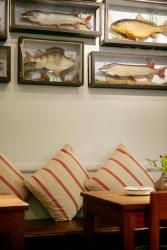 The Fishes is a Victorian pub with ample grounds, ideal in summer for families with scrambling kids. The interior was bustling with well-groomed, well-fed and healthy looking locals, happy and unusually for my eyes, multi-generational. One of the sad sights in London is that most pubs, especially those gastro, are filled with the same socio-economic age group, dull dull dull monotonous strata of Emilys and Jesses and Wills. Here at least there were grandparents, grandkids – and lots of bescarfed students.
R had joined me for lunch. On my orders, he'd chosen pan-fried garlic and lemon tiger prawns on toast which were perfectly fine. Charlie from yesterday was in charge and she did a good job despite this sitting being busier than Heathrow airport in the snow. I loved my sauteed squid linguine with chilli, lemon and parsley because it was so simple and clean, sliced with flavour. Squid was squishy, lemon not too tart. R had the special of roast loin of Jimmy Butler's pork with Yorkshire pudding which was plentiful and great as pub food goes. My special was whole roast partridge from the nearby Blenheim estate – good value at £13.50. While the breast was good, the wings had the tastiest, gamiest meat. Farmed partridge, as this was, is rarely as flavoursome as that shot but this is a good value pub and for its cost, the dish was satisfying.
Then R and I suddenly noticed the time. In these days creeping up to winter solstice it was already dark and we wanted a walk across the Chilterns. So we abandoned the idea of pudding and found our way out of the cul de sac. And down the A34. And across icy heath with only the call of owls and Oxford's street lights for company. Then back through the choc-a-tug of lorry, van and irate cyclists into the Smoke again.
'Pork to Fork' costs £125 for the day including lunch, or £150 for the day and a two- course dinner with wine at The Fishes. For more details, or to book, please contact The Fishes on 01865 249796 or visit www.fishesoxford.co.uk
Air dried ham (prosciutto style)
1 leg of pork
malt vinegar
7-10kg salt
1 tbsp black peppercorns
1 tbsp coriander seeds
Method
Weigh the leg – you need to allow three days of salting per kg. Clean the leg with a vinegar soaked cloth. Place the leg into a container and cover with salt. Take out the leg after the allotted time and wash with cold water. Rub the joint with vinegar again. Hang in a well-ventilated room or barn. Loosely cover with a muslin cloth and leave for six months. Wait and see.
To tell if your ham is ready, squeeze it with your fingertips; if the ham feels firm but not rock hard, and the indentation made by your fingers stays, it's ready.