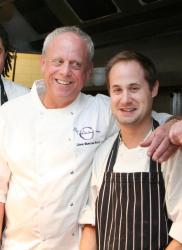 My Dining Room, the French gastropub in the heart of Fulham, has recruited John Burton-Race to help them help them develop their menu and introduce dishes that match with their ethos of delivering 'honest French food'.
After many years away from London, John Burton-Race has become My Dining Room guest chef for 2011. In taking on this consultancy role John Burton-Race has already designed some of his signature dishes in their new winter menu.
The new winter menu, recently launched has an emphasis on hearty, honest, french food using seasonal produce when it is at its best. Diners can look forward to such dishes as pork and black pudding croquette, seared duck foie gras with braised lentils, ox cheek bourguignon, cote de boeuf with confit shallots and marrow bones, floating island with custard cream and tart tatin of apple and quince. Burton-Race's signature dishes are highlighted in a special 3 courses menu at £27, including a Celeriac soup with salt cod croquettes, Venison with peppercorn sauce and fondant potatoes and Roasted figs with walnuts and cinnamon ice cream. In addition My Dining Room continues to offer daily Prix Fixe menu, showcasing daily specials at £15 for a 2 courses meal and £19.50 for a 3 courses meal.
Olivier Lavigne du Cadet, owner of My Dining Room, is convinced that Burton-Race's understanding of French cuisine will match the 'honest French food' concept of My Dining Room perfectly. We understand that apart from his role as Executive Chef, supporting My Dining Room's new head chef, Tom Cenci, in creating a menu using the best seasonal ingredient and mixing French tradition with an English twist, Burton-Race will be cooking at My Dining Room on a few evenings most months.
There will undoubtedly be many who will be pleased to see the return of Burton-Race to a London venue and his influence on their menu. So, if you are one of those people and would like to see the full menu is available on request or can be viewed at www.mydiningroom.net
My Dining Room, 18 Farm Lane, London, SW6, 020 7381 3331