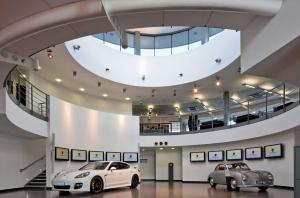 As we wafted towards the famous Formula 1 venue in a chauffeur driven Panamera Turbo, I considered that the Porsche Experience Centre at Silverstone is probably not the first place you'd expect to find a Michelin starred chef cooking a luxurious banquet for around sixty people. The site consists of various test tracks and a main building housing conference rooms and an atrium displaying some of Porsche's latest models; not a hugely encouraging blueprint for a gourmand.
After the well-to-do have strode round the immaculate building, picking out seatbelt colours and carbon brake discs, I dreamt of them stopping off at an IKEA-esque canteen and reluctantly eating things like '911 Meatballs', 'The Carrera Hot Dog' and 'The Cayenne Burger with Cheese', purely out of necessity rather than desire. Silly me, of course, for Porsche know their brand and their customers and so the first floor mezzanine of the centre forms the 'Porsche Restaurant', where their guests can eat in the manner in which they are accustomed.
'Fuel Your Passion' is a programme of seasonal dining evenings to be held in the restaurant and, like the launch night on Tuesday, a Michelin starred chef will host every one. Nigel Haworth, who self-deprecatingly referred to himself as 'hot-pot bloke' thanks to a dish he cooked on the BBC's Great British Menu, created canapés and a six course tasting menu for the evening's proceedings, with his business partner Craig Bancroft on hand to present the wine for each course.
On this evidence, it's easy to see why Haworth is revered as one of this country's best chefs. The meal was decadent, rich and imaginative, so exciting and flavoursome that the predictable clichéd comparisons about making exquisite cars and delicious food ('Steel; aluminium; rubber. Milk; eggs; flour… Alone these raw ingredients are nothing") simply washed over me without a single curled toe or a hint of nausea.
A starter of goat's cheese custard with beetroot ice cream is such an intriguing prospect that even when you find the textures a little strange, as I did, you can't help but admire it anyway. The Dexter beef tartare was so aesthetically pleasing I didn't feel I should dismantle it, but I was rewarded for my sacrifice as the beef, drenched in a quail's egg, with an elegant cauliflower carpaccio and wondrous marrowbone and caper toast, was a perfectly balanced mouthful of flavour.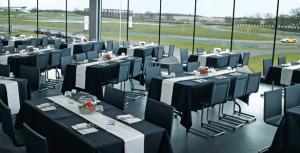 Lobster with a nutty potato salad and john dory with squid and Villa del Rey ham were two perfectly executed dishes that benefited from two beautifully ripe white wines. The last savoury dish of the night was a pink, moist loin of deer delicately Wellington-ed with truffles and root vegetables. Such an amazing piece of meat so expertly cooked virtually melted on the tongue and Craig Bancroft's choice of an intense, brambly Zinfandel was a perfect example of how the right wine can really enhance an already excellent dish.
A gorgeously vanillary apple trifle drew an unforgettable meal to a close, and also heralds an end to the effusive praise I lavish upon the dinner here. We had watched dishes being assembled on the pass via video uplink throughout the evening and Nigel came out to show diners he was more than just a pair of forearms when plates were cleared. He and Craig provided fine food and wine for the evening but they also contributed greatly to the atmosphere, as they are both warm, confident public speakers and seem genuinely passionate about what they're doing. It's a tribute to them and the evening that attendees will be just as interested in staying at their hotel in Lancashire, Northcote, as they will in coming back to the Porsche Experience Centre to eat again.
Despite preconceptions, it seems that the Porsche Restaurant is a genuine venue for an inspiring meal, particularly at one of their four 'Fuel Your Passion' evenings scheduled for each season of 2011. Judging by his food on Tuesday, Nigel Haworth's return next year ought not to be missed.