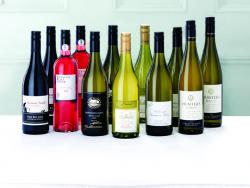 I'm not generally one for buying mixed cases of wines, if I like a wine it's good to know that there will still be several there for me to draw on that evening or at a later stage. Having said that, mixed cases do have major benefits, they enable you to select a wine from them that best suits the dish that you are planning to eat. They also let you try a whole range of different wines that you might not previously have tasted and decide which you might like to buy a case or two, or more, of. With this in mind, we sampled the Laithwaites' New Zealand Showcase recently and I was very impressed by these lovely bright and vibrant creations form the New World.
The New Zealand Showcase is comprised of two bottles each of three different Sauvignon Blanc, a Gewurtztraminer, a rose and a Pinot Noir, something for most tastes. Each was a delight on my palate.
To look at the Sauvignon Blanc first, the Marlborough Babich Sauvignon Blanc is a lovely crisp white. On the nose it has grassy notes as well as hay and an acidity hits as you breathe in deeply. Then as you take a drink you get a clean mouthful of melon and some citrus coming though. There are minerals in the background, a good sharpness and acidic tang. As it warms in the glass the wine sweetens slightly giving you apricots in with this mix of flavours. We had the wine with a spicy chicken dish and it held up very well, its good acidity cutting through the dish nicely.
The Marlborough limited release Sauvignon Blanc has great character, it has fresh green fruits, citrus acidity and floral notes on the nose that are very inviting. As you take a mouthful you get zingy citrus flavours, peach, tropical fruits, a hint of mango and passion fruit come through on the palate together with sharp green fruits. This is a wine that gives a tingle on the tongue as you drink it and after, it has great length on the palate, which we loved. Great to drink on its own, which we did. but would accompany white meats and fish really well, perhaps even pork.
The Esk Valley Sauvignon Blanc has a grassiness on the nose together with citrus, green fruits, passion fruit and mango. As you taste it, there's a mouth-watering acidic sharp edge then passion fruit, mango, peach and kiwi grow in the mouth. These bold flavours really burst into life on the palate. It is a refreshing wine that has good depth, some body and great length on the palate. This is a white that would stand up well to bolder fish and white meat dishes, perhaps fish pie or chicken in a spicy sauce.
Moving on to the Hunter's Gewurtztraminer, as we breathed in its bouquet, we got a sharp freshness combined with floral notes, apricot and a hint of Turkish delight. On the palate it is divinely fruity, but with a great acidic zing making the edge of the tongue tingle. The wine has big intense flavours of ripe tropical fruits, peach also comes through and rose, echoing the Turkish delight notes on the nose. The wine has some body and excellent length and could be enjoyed on its own but it would work well with your festive meal, I could see it holding up really well to the Christmas Turkey, equally it would work if you were enjoying a mince pie in the afternoon – or the morning for that matter!
The Bannockburn Creek pinot Noir rose, has a beautiful vibrant pink colour and big strawberry notes on the nose, together with cherry and a fresh clean acidic sharpness. These lead you to anticipate a fruity mouthful and the wine doesn't disappoint. Strawberry comes through strongly on the palate followed by zesty peach and redcurrant flavours. This is a good crisp rose that gives a tingly feeling on the edge of the tongue and has good length, as it warms in the glass it becomes sweeter somehow enhancing the fruit flavours. As we drank it I could imagine myself under shade on a hot summer's day with beads of condensation dripping down the well chilled glass – idyllic! Having said that, it is a beautiful rose that would work well at any time of the year.
Finally, the Beaton Track Pinot Noir. This excellent red not only had a good deep colour it had seriously heavy forest fruits in its rich bouquet, yet somehow a slight sharp edge cuts through as you breathe it in. As you taste it that acidity is there, a background to a basket of red fruits, notably raspberry, blackberry, blackcurrant and strawberry. This is a medium bodied red that is smooth and soft in the mouth. There is a touch of peppery heat and some fine tannins in its finish and you are left with a good length of flavour on the tongue. We drank it on its own, but I could see this wine pairing well with most red meats, though I probably wouldn't serve it with anything too heavy, it's a wine that needs to be enjoyed with the food, not masked by it.
So, to sum up, this is an excellent mixed case and a great introduction to New Zealand wines if you have yet to try any, or many. There's serious fruit in each of them and they all have a vibrant liveliness in the mouth. Each of these wines are a great advertisement for New Zealand winemaking, it's perfectly clear why the people at Laithwaites have put this mixed case together. If this inspires you to try the New Zealand Showcase, you can order it through the link below. As you can tell, I loved it, every drop. The New Zealand Showcase is priced at £129.99 for the case of 12 wines, there is also a multiple case deal that is linked to it.