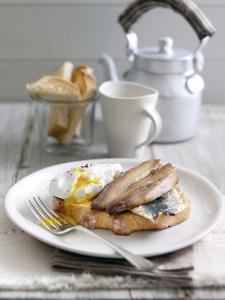 When Sainsbury's offered to send over some of their Cornish kippers we expected a couple, instead we got a shoal. So instead of just the FP team getting a taste I handed out fishy treats to all my neighbours on Friday evening, handed the wife a couple for us and sat back for results.
Saturday morning and the smell of kippers cooking is sending half the cats in the street mad, including our own. Soon we're getting phone calls, knocks on the door and comments over the fence. Basically the kippers are going down a treat.
The big surprise is that these kippers are not made from herrings, as is traditional, but from sardines. Sainsbury's is the first retailer to launch kippers made from sardine using the age-old smoking method, usually associated with herring.
More popular than its cousin the herring, sardines are set to put retro kipper dishes back on the menu. After years of decline kippers are predicted to benefit from sardines' popularity due to its PDO status, rich flavour, high omega 3 content and great value; often less that 28p a fillet.
In 2009, Sainsbury's sold 700 kilos of fresh sardines per week, this year sales have seen an increase to 2 tonnes – an increase of over 180%, highlighting that sardines are more popular than ever before. Sainsbury's reckons its new sardine kipper offering will follow this trend, as Brits rediscover this family favourite.
The thing about Cornish sardines is that the bones are so fine that when cooked they become virtually boneless, providing a solution for people like me who love fish but don't like bones. Sardines are also plentiful, providing a week's allowance of omega 3 in just 125g (costing less than 90p). As Seafood Retailer of the Year, we want to make sure sardines get the recognition they deserve as a healthy, very tasty and great value fish.