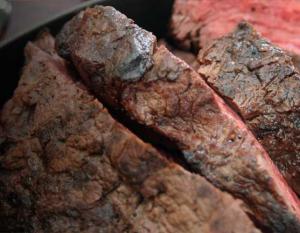 Once upon a time, in the urban burger 'restaurants' of a certain well-known chain, it was said that the lights in the loos were special ones. They gave off illumination which made it impossible for junkies to find a vein, thus depriving them of their fix and encouraging them to leave.
The new Hawksmoor, underground and so windowless, has a peculiar light too. It's a funny kind of orange and makes your eyes feel odd, as if they needed taking out and polishing. It must make it very hard for the food paparazzi to get acceptable results. Maybe it will deprive them of their fix and encourage them to leave.
There is you see something about burgers and steaks that attracts a certain kind of diner. Perhaps it's the simplicity of choice and the option of eating without, in the burger's case, cutlery. One hesitates to suggest that Americans, who pretty much invented the genre, have simple tastes and limited motor skills but the thought is there.
Hawksmoor have made a real success of the current fad for burgers and steaks, in fact with their restaurant in Spitalfields they pretty much kick-started it. Offering very high quality meat they gave diners guilt-free burgers. Finally you didn't need to wear a tracksuit and trainers to indulge your secret vice. Instead you could flaunt your weakness for minced meat in a bun and not lose your middle class credentials. If you were really determined you could even pause in mid bite and loudly compare the burger to those you'd eaten on your most recent trip to New York, so sending out ripples of boredom in all directions.
Here in the vaulted underground space of the new Covent Garden Hawksmoor, with its wonderful wooden floor reclaimed from Christie's auction house, they have restricted burgers to the big bar where you can chew away with a fancy cocktail at your elbow. You can order burgers in the main room, but you will have to ask specially. The restaurant is all about steak.
With both a charcoal grill and a Josper grill, Hawksmoor is well equipped to sear meat. Getting the outside caramelised, while the centre stays pink, is key to getting steaks right. That and, of course, getting the right steak. Hawksmoor get theirs from The Ginger Pig, a semi-legendary supplier in London. Their Longhorn cattle, reared in North Yorkshire are hung for at least 35 days. It's the proper way to treat meat and the result is taste that transcends the ordinary.
First though a starter to nibble on. J, completely missing the point of this kind of restaurant, has oysters but I have lamb chops. Lamb chops cry out for fast searing and these arrive, on rather cheap plates, with the right amount of scorching to turn fat into flavour. I like my lamb rare but one of the chops is a bit too close to getting up and walking off. Luckily the other two are correct and worth chewing down to the bone to get every luscious scrap off. The mint and caper salad was hidden under a chop, but when it suddenly appeared it posed the problem of how to eat it. With both hands holding chop it wasn't easy, but the fresh mint was of course an excellent foil to the lamb and cut the inherent greasiness.
This was but a prelude to the main event. Porterhouse steak Unfortunately Hawksmoor had run out of small portions with only sizes to share left, in this case 800g at £6 per 100g. Not cheap by any means, 100g is not very much. This could also be a problem if you don't agree on cut or cuisson, but luckily J and I both like ours medium rare so could happily share
It's hard to write much about steak, what you get is steak pure and simple. First bite to last nothing changes, all that matters is that each bite is perfect and this certainly was. Crispness darting in and out of the fat, a rich buttery texture and superb flavour. The beauty of steaks from a restaurant's point of view is that chef doesn't need years of training, just a bit of hands on experience and the ability to handle a very hot work station. That and an accurate internal clock of course, although nothing beats touch and feel for assessing a steak's degree of doneness.
Triple cooked chips, and aren't they all these days, were very good if a little meanly portioned, and the same could be said for all the side dishes really. Dessert was a pretty bad apple crumble and a very good sticky toffee pudding.
The best steaks in London? J volunteered that although they were indeed excellent he still preferred the ones at The Guinea Grill. I don't eat steak that often in good restaurants only in bad ones as it's the one thing that should be edible, so I don't have a yardstick to wave about. I liked these a lot though.
Steak dining is easy eating, undemanding and satisfying and what first lured suburban Britain out of its 70's sitting rooms and into restaurants in the first place. Now anointed by the Internet it clearly meets a new metro-urban need and Hawksmoor have their finger firmly on the pulse, successfully mainlining quality meat to the multitude.