15-16 Lendal Terrace, Clapham North, SW4 7UX
Fu Manchu is a new Late Night Dim Sum and Cocktail Bar, launching in Clapham North on Thursday 30th April 2105. Hidden under railway arches and shrouded in mystery, Fu Manchu will be as enigmatic as its moustachioed, villainous namesake.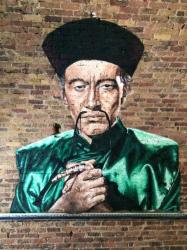 Taking its inspiration from the Chinese master criminal introduced by Sax Rohmer in his early 20th Century cult novels, and subsequent films, Fu Manchu combines Victorian Opium Den with a modern graphic edge. Occupying an old railway arch, the venue's décor is dramatic and visually stunning, setting off raw brickwork with striking light installations created by Lighting Designer Louisa Smurthwaite, who has worked with the likes of Kylie, Pulp and Grace Jones. Featuring raised seating areas framed by a long bar, the space is airy and open, but full of hidden corners.
The cocktails, inspired by Fu Manchu's shady associates and elaborate criminal plots, feature drinks such as The Kiss Of Death and Manchu's Mind Control. Made from Chinese tea infusions, Asian spices and exotic flavours, the drinks are inventive, eye-catching creations.
The food menu at Fu Manchu will centre on a range of delicate and fragrant authentic dim sum, steamed to perfection. Served in combinations and served from beautiful wicker baskets, the dumpling menu is ideal for sharing.
Later in the evening, a series of interactive and innovative DJ and live music led nights will ensure the venue moves smoothly from early evening dining to late-night dancing.