29/31 Montpelier Vale, Blackheath, London SE3 0TJ  www.zerodegrees.co.uk 
A microbrewery, and pub, and Italian restaurant; Tom visits Zerodegrees to see if it's as cool as it sounds.
When I first moved to Blackheath, at the start of this year, I instantly felt 10 years older. Gone were the cool kids of Peckham with their mid-90s sportswear and confused parents. In fact, their out of touch, Audi-driving parents were suddenly my neighbours and conversations overheard in pubs were less about pop ups and debt, and more about school catchment areas. 
Still, it turns out Blackheath is a rather nice place.
Aside from the estate agents, that seem to inhabit every corner with their fridges full of bottled water that you never see anyone drinking, there is a good selection of bars, pubs and restaurants. One of which is a micro-brewery come Italian restaurant called Zerodegrees.
Firstly, I think it's important to give credit to Zerodegrees' bouncer. Door staff are rarely mentioned in restaurant reviews, although in fairness door staff aren't often present at restaurants, but the bouncer at Zerodegrees is just as welcoming, probably slightly more, than the floor staff waiting inside.
The venue itself is huge. Upon entering we found ourselves in a bar area which turns into a restaurant at the back. Upstairs there are two more restaurant spaces all wrapped around the large brewery tanks and pipes.
The industrial brewery theme runs throughout with bare concrete floors and plenty of brushed steel giving the place a raw, your-mates-garage feel.
The bar was busy so we carried on through and were sat just over the boarder in the downstairs restaurant.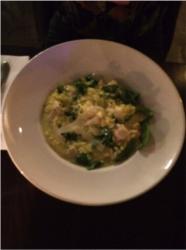 Zerodegrees' menu is nice. Providing enough choice and interesting combinations without being overwhelming or too complicated. We went for the Crostini to start and I ordered a pint of the brewery's pale ale.
By the time my pint arrived four different members of staff had served us. Not because the beer took a long time, there just seemed to be a lot of floor staff, and rather than have sections they covered it all. Like a magician pulling handkerchiefs out of a hat they just kept coming.
The Crostini arrived quickly, but then again it should really. Four slices of garlic bread each with a different topping; smoked salmon and mascarpone, parma ham, goat's cheese and tomatoes. It tasted good, but not outstanding. The goat's cheese portion was a little mean and the bread slightly lifeless. It reminded me of buffet food, not bad buffet food like a village hall fiftieth, but equally not as good as a posh person's funeral.
Mains were much better. My kilo pot of mussels in a Thermodore sauce tasted fresh and juicy. The sauce giving occasional hits of mustard and cheese, although the fries were a little undercooked. My accomplices chicken, spinach and mascarpone risotto was deliciously creamy with just the right amount of spinach. Was it a risotto to write home about? Perhaps not, but it was tasty enough.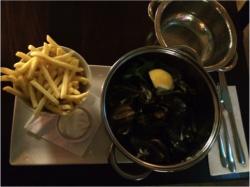 We decided against desserts. Sadly the downstairs of Zerodegrees, for me, doesn't quite suit a meal for two. The various huddles of mid-thirty year old men checking out waitresses like pack animals and the noise they produce, which I suppose the factory-come-cave décor slightly amplifies, means it's not a place for a relaxed chat. Although perhaps this is the role the upstairs restaurant areas play.
Overall Zerodegrees, for me, is a jack-of-all-trades but a master of none. It's a bar/restaurant/brewery/pub and it does all of those things quite well.
The question is, in a land of fairly high earners confused by the outfits of their offspring, is'quite well' good enough.
More in the mood for toast and TV? See what Nick thought of the new Warburtons toaster.
Or, if you're feeling a little spicier, why not go along to the upcoming World of Zing event.