Ockenden Lane, Cuckfield, Haywards Heath, West Sussex RH17 5LD
Nik leaves London (again), this time travelling south to sample the Michelin-starred delights and opulent spa of Ockenden Manor, just outside Haywards Heath.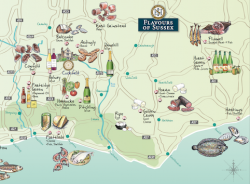 Who's gay in Hollywood? I'm not really bothered and until last week, I would have struggled to guess. Now though, I know. Everyone in Hollywood is gay, apparently.
As our taxi crawled through the endless sprawling mess that is South London, I was let in on the secret's of the rich and famous. The cover-ups, the deceit, the scandal! All of it. Every single last skeleton, from every single last cupboard.
Who would have known journalists and bloggers could be such fonts of gossip?
Had we taken the train, those same skeletons would have danced loudly in the aisles and those same secrets would now be common knowledge. As it was, they were safely contained within our taxi. George Clooney has a power surge at Purley to thank for that.
In my slightly hungover state (damn Doombar, damn whisky, damn toffee liqueur – it was one strange party), all I could do was sit, listen and wish I hadn't locked my only bottle of water in the boot.
After two hours we arrived in Cuckfield, on the edge of Haywards Heath – a town only forty minutes from London by train, but far further by car if you have to navigate the corkscrew that is Croydon three times.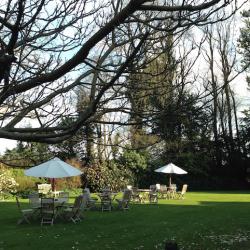 Waiting in Cuckfield was Ockenden Manor and (thankfully) the quiet tranquility of their fairly luxurious spa.  An hour spent in silence having the pain of a dehydrated body massaged away, a further hour spent sat sleeping in a giant bath watching the Formula 1 – yep, you can see the TV from the bath, score! – and I felt moderately fresh and human.
Ockenden Manor is a Michelin-starred restaurant and hotel, set in a very old country house. Think of a large oak door, an uneven and well-worn flagstone floor, lopsided doorways, an impressive dining room and Hugh Bonneville rushing in every five minutes with news of a sunken ship or dead goldfish.
It's the sort of place that makes you feel immediately out of place in a pair of jeans, t-shirts and dusty old boots. Oh well, three glasses of sparkling wine from Ridgeview (a local vineyard) put pay to that feeling of inferiority. And the staff were very friendly too, which helped.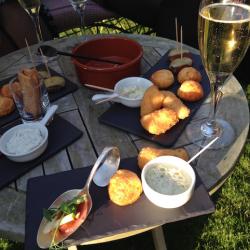 We ate nibbles on the lawn. We drank more sparkling wine. We talked all things from ghosts to Islamic State, Oxford and vlogging. Glass after glass slipped down, before the clock turned twelve and I became a pumpkin.
Oh, the food? Glad you asked. I almost forgot why I was here.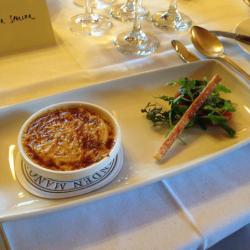 A delicate pot of Selsey crab lasagne was sweet, salty and needed mopping up with bread until the plate was clean. Then followed a mackerel salad with beetroot – a course that felt too staggeringly healthy to be on this menu, but I'm very glad it was.
Two plates down, both left clean.
There's a reason for the order of a menu – well, in the best restaurants anyway – and the light, fresh salad was the perfect course to precede the main: beef fillet, oxtail and bone marrow. The salad, a palate cleanser for the injection of pure beef that was to follow. Packed with the full flavour of cow, the fillet and oxtail were succulent, tender and clung to the fork, sticky with their own juices, while the marrow sweetened the whole dish and added to the general feeling of total satisfaction.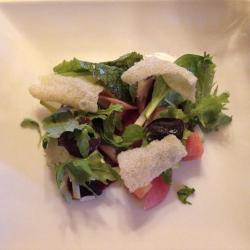 As we started, so we ended. The stuffing of beef flanked by a fresh salad on one side and an equally fresh citrus plate on the other. Light, delicate, with a clear liquid that (again) cleansed the palate and managed to convince my stomach it had space for the pudding – an assiette of chocolate.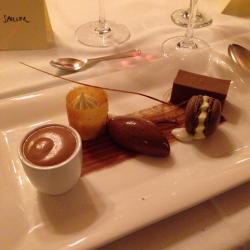 I squeezed half of the dessert in, making sure to take a bite of each piece. This is the most incredible way to serve chocolate – in all its forms, spread across the plate like animals queuing for the Arc. Bring me two of every cocoa product!
Coffee and ornamental Petit Fours arrived shortly afterwards. It's likely they still sit on the table, untouched and uneaten. The belt was straining by this time and the lungs were reduced to short-breath. Okay, I lied. I did have a piece of a brandy snap, but it was too much – I was stuffed, well and truly, and content to go to bed with a smile.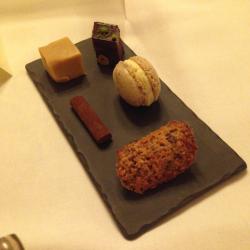 Do we end the review there? The word count's complete, but the trip is far from over! The next day, we drove to Hove to see a day boat land its catch, then on to the vineyard at Ridgeview to sample champagne and finally to Trenchmore farm for beef and cider. But, unfortunately, I think those tales will have to wait for another day.
Details from our visit:
Ockenden Manor offers rooms, a spa, and a Michelin-starred restaurant, with a 2 course lunch starting at £19.50, and a 3 course dinner from £60. For more information, visit www.hshotels.co.uk/ockenden-manor-hotel-and-spa
Ridgeview's wines can be found in over 10 stores across London, including Fortnum and Mason, Harrod's and Berry Brothers. Prices start at around £29.95 per bottle. The vineyard is open for tours and direct sales: www.ridgeview.co.uk/pages/tours/opening-times/9001
You can learn more about Trenchmore Beef here: www.trenchmore.co.uk/trenchmore-beef/