Danielle Woodward discovers how to incorporate superfood supplements into everyday meals, that actually taste good as well as do good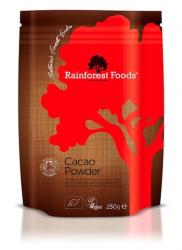 Superfoods: the term has been bandied about rather a lot lately, with some controversy as to what actually constitutes a 'superfood'. The jury is out on whether kale, broccoli and purple-coloured fruit have super-nutritional powers, or whether they are just good-for-you veg, but there are some foods available, that are believed to benefit our health by packing a superpunch of nutrition in one hit. Açai berries (antioxidant-rich), goji berries (high in vitamin C), cacao (contains flavonoids), chia seeds (high in omega-3 essential fatty acids, fibre and calcium), maca (highly nutritious) and seaweed (mineral-rich), are some well-known superfoods we can add to smoothies, sprinkle on our cereals, snack on and cook with, to enhance our diets.
As someone who wonders how to use superfoods like these for the best results, I was excited to try the range from Rainforest Foods, an ethical Soil Association-certified company that manufactures additive-free superfoods and supplements, selling them in convenient forms, such as powder. The quote on the website "We're good to nature so that nature is good to us" sums up their ethos.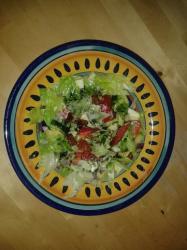 First was spirulina. A nutritional green algae, it is tricky to disguise the salty, seaweed-like flavour, which is why I've never liked it in fruity smoothies. But Rainforest suggested I use it in a salad dressing – and the results were surprisingly tasty. With a salad made up of lettuce, courgette, cucumber, red pepper, red onion, sundried tomato and avocado, the dressing had just 1 teaspoon of spirulina added to the olive oil, garlic, lemon juice and salt. A little goes a long way and it turned the dressing a deep shade of forest green, but drizzling it on the salad, it was fresh and complemented the other flavours well.
Next was the chia seed pesto, inspired by the recipe in The Chia Cookbook by Janie Hoffman, which needed a bit of prep, as when chia seeds are soaked in liquid, they expand to create a type of gel. This was mixed with walnuts, almonds, garlic, basil and olive oil to make a pesto, which I used to top a fillet of white fish, then roasted in the oven. It was a bit dry and crunchy for my taste, so I added a bit of butter; but the flavour was good and the crunchiness of the topping contrasted well with the soft flesh of the fish.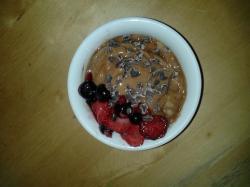 Dessert was banana and chocolate'ice cream', made from frozen bananas, whizzed up with cacao powder and maple syrup, with a sprinkling of cacao nibs on top for crunch and some fresh berries to serve. This was the most surprising dish of all for me; a dairy-free yet creamy and naturally sweet dessert that didn't leave you feeling like you've indulged in something that is doing your waist no favours! I'm going to make this one again.
As a treat for my sweet-toothed children, I made the no-bake açai berry truffles from Debbie's Adler's book, Sweet Debbie's Organic Treats – the only sweetness being the dates and orange juice. Easy to make, just whizz the ingredients in a food processor, then roll into balls and coat with dessicated coconut, these are kept in the freezer until ready to eat. They were a big hit – with my kids and myself, and the knowledge that they are full of goodness was a bonus.
I also tried Ella Woodward's Chia Seed Pudding from her book Deliciously Ella – where chia seeds are soaked overnight in almond milk, with some maple syrup and cinnamon for flavour and Debbie Adler's Acai Berry Chia Pudding. The trouble with these was its frogspawn-like texture and look of it, although the flavour was good, the texture just didn't sit well with me. My daughter on the other hand, scoffed her portion down – so it's all down to personal taste!
My introduction to cooking and eating with superfoods has inspired me to discover more ways to incorporate them into my diet. Rainforest Food's blog has lots of inspiration – next on my list is the Cacao Sourdough Cake with Coffee Filling and Sicilian Marzipan Tart with Cacao Nibs, which are sure to satisfy my sweet tooth!
Buy online at www.rainforestfoods.com