Caravan Exmouth Market has announced it will host a one-off evening of Nepalese food at the restaurant on Sunday 17th May, to raise money for the victims of the recent earthquake in Nepal.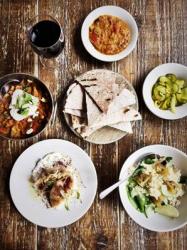 The evening will feature a three-course Nepalese feast, plus welcome drink, prepared by Caravan's Chef/Director Miles Kirby alongside the restaurant's long-standing Nepalese chefs and front of house team members.
Using fresh and seasonal produce to create Nepalese-inspired dishes, the team have created a menu that will start with'Momos served with tomato chutney, Nepalese potato salad, daikon pickle, beaten rice & roti', followed by a main course of'Welsh Mutton Curry with cucumber pickle' and sides of 'Creamy coconut lentils & green beans' and 'Cashew & paneer salad'. The dinner will finish with a dessert of 'Gulab jamun' – the tempting and sweet Nepalese take on the humble doughnut served with'Passion fruit sorbet & Kaffir lime syrup'.
All proceeds from the evening will be donated to the Disasters Emergency Committee, a charity running an appeal following the devastating Nepal earthquake last month. Caravan Exmouth Market staff will volunteer their time for the evening and the meat, vegetables and alcohol are all being donated by the restaurant's generous suppliers; including Camden Town and Beavertown breweries, Liberty Wines, Kamm & Sons, First Choice Produce, FMV, Les Cave de Pyrenees and Daphne's Original Welsh Lamb.
The Nepalese Feast charity evening at Caravan Exmouth Market is priced at £40 per person and includes the three-course set menu and a welcome drink.
One sitting – welcome drinks from 6.30pm. Dinner from 7pm.
Please call 02078338115 or email restaurant@caravanonexmouth.co.uk (including NEPAL in the subject line) to make a booking now – space strictly limited so booking is essential
Caravan Exmouth Market
11-13 Exmouth Market, London EC1R 4QD