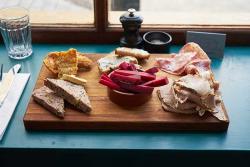 Blackfoot, London's place for piggy dishes, has knocked off some Old Spots and spruced up for Spring
It's now got  new name –Blackfoot Bar & Backroom Dining  – a new look and a new menu to include a number of more Spring-like dishes: namely ones that are snout-free. There will be seasonal veg, as well as seafood curated by chef-in-chief Roberto Freddi.
Alongside classics such as The Long Smoke and Ibérico Presa there are now things like Chargrilled Wild King Prawns with Aioli, Fritto Misto of seasonal veg, Beetroot Falafel with Dukkah, Lincolnshire Poacher withnew season marmalade, and Chicken Shashlik with Sumac, Lemon and Cumin.
The front room, still resembling the old pie & mash shop it used to be before gentrification, is now a casual bar.
Blackfoot Bar and Backroom Dining is are open six days a week, serving lunch from 12-3 (including the ever-popular Porchetta bar as well as the "Pigs can Fly" menu), then snacks and dinner from 5.30-10.30pm.
Blackfoot, 46 Exmouth Market, London EC1R 4QE