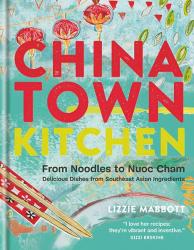 New to London, I remember feeling overwhelmed by the noise, endless stream of people, and the dawning realisation that I had no idea how to navigate my way back home on the tube. Seeking solace off the busy street, I headed into the first supermarket I found and the comforting familiarity of food. But alongside the conventional sat the beautiful, exotic and, up until then, usually unattainable – and everything that had felt different and scary a few minutes earlier suddenly just felt exciting.
Seventeen years later, supermarkets still provide inspiration or help when trying to reimagine a dish, but it is the Asian supermarkets that can recreate those first feelings of awe that I remember. Like the foodie equivalent of Aladdin's cave, they are filled with treasures that although largely unknown, and often with unidentifiable names and ingredients listed in another language, you are desperate to try.
Trying to decipher these ingredients can be bewildering, but with Lizzie Mabbott's China Town Kitchen, things just got a whole lot easier. Her book is a guide to all those daunting ingredients found in Asian supermarkets, with each chapter focusing on a particular range of ingredients, such as "Sauces and Condiments", and recipes in which to use the different miso, bean and shrimp pastes.
Having spent her childhood in Hong Kong, the book covers food from this area, as well as dishes from Japan, Vietnam, Malaysia, Thailand and Korea, and hybrids of favourite dishes, such as Chinese Spag Bol and Kimchi Toasted Cheese Sandwich.
If you're new to Asian cooking, helpful "Basic Equipment" and "Basic Ingredients" lists are covered, and there are lots of recognisable dishes (from your local Chinese takeaway or Wagamama) to ease you in, such as Beef in Black Bean Sauce, Yaki Udon or Chicken Katsu Curry. But for those looking to add something a little different to their cooking repertoire, you won't be disappointed.
Previously, I'd only used the Vietnamese nuoc cham from a jar and served it as a dipping sauce, so I was keen to try the Grilled Aubergines with Nuoc Cham. The aubergines are fried, then grilled and mixed with mint, coriander and the sauce – a heady chilli, fish sauce, lime, garlic and sugar concoction – and served with chopped cashews. The sauce was, unsurprisingly, a lot fresher tasting that the bought variety (and Lizzie encourages you to keep tasting and adding ingredients until it suits you) and it cut through the creamy richness of the veg deliciously.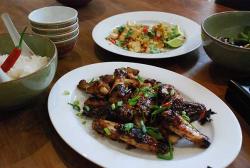 Noodles are a mainstay in this type of cooking, but a glance at the numerous varieties on offer can be a little off-putting. Lizzie breaks them down into rice and egg options – including the most common as well slightly more unusual Kway Chap (rice flakes) and E-Fu – and gives suggestions for usage and cooking methods.
Other popular ingredients are pickles and preserves, which covers the fermented products; perfect for those wanting to try something a bit out there – century egg anyone? This is a ready-to-eat egg, which has been buried in alkaline clay for some time (although not 100 years!) so that when peeled the whites of the eggs are black and transparent and the yolks a greenish-grey colour… Malaysian Fish Head Curry, Korean-style Chicken's Feet, and Five-Spice and Chilli Oil Cold Tripe Salad probably also fit into this mould for me, but are great for those wanting to try authentic dishes that haven't been adapted for western squeamishness.
Not feeling particularly avant-garde on the day I decided to test six of the recipes, I chose ones that sounded delicious and which my storecupboard could cope with… So along with the grilled aubergines, I tried Griddled Teriyaki King Oyster Mushrooms, Salt and Pepper Tofu, Cola Chicken Wings, Steamed Bream with Goji Berries and Poached Pears in Lemon Grass Syrup. The instructions for each recipe were easy to follow and the dishes ended up looking (mostly) like Lizzie's but, best of all, they tasted good.
Cooking and serving the bream whole makes for an impressive-looking dish, while the chicken wings would be perfect for casual drinks with friends. Perhaps not the most authentic with the can of cola, but wonderfully spiced and gloriously sticky – serve with lots of napkins. The meaty mushrooms would make a substantial veggie main with rice and noodles, while even my tofu-hating other half enjoyed the lightly spiced and crisp option. We finished with the pears, fragrant with ginger and lemongrass – and served my way with vanilla ice cream, they were a hit. One word of advice, don't try to make six dishes at once if you can avoid it, and don't get distracted while the aubergines are grilling…
Despite juggling too many dishes, I had fun cooking from China Town Kitchen, enjoyed the feast, and learned about sourcing new ingredients and how to use them. The Five-Spiced Quail, Homemade Sriracha and Black Sesame Ice Cream with Black and White Sesame Honeycomb are just some of the recipes that I've already earmarked to make next. Although, admittedly, getting round to that Century Egg Salad might take me a little longer…