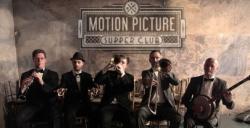 On Friday 22nd and Saturday 23rd May MPSC are teaming up with Tanqueray to host two nights of live jazz, cocktails, candlelit dinners, films and post-dinner revelry inside a beautiful 1920's ballroom in central London. 
Guests will enjoy a welcome cocktail inside the grand Art Deco bar; be treated to live jazz from the Basin Street Brawlers; be served a three-course, candlelit dinner by Disappearing Dining Club during the screening of either American Beauty (22nd May) or Catch Me If You Can (23rd May) inside the main ballroom; and then enjoy more live music and dancing (with access to three bars, including thevintage diner bar) until late.
www.MotionPictureSupperClub.com
On DDC's menu:
STARTER
Grilled & Pickled Asparagus With Goat's Cheese & Soft Boiled Quail's Egg
MAIN COURSE
New York Striploin With Lobster Béarnaise, Stuffed Potato Skins & Green Bean Salad
OR
BBQ Corn On The Cob With Stuffed Potato Skins & Green Bean Salad
DESSERT
Chocolate Brownie With Salted Caramel & Popcorn Parfait
If you can't make it for the sit down dinner and movie, then you can also purchase a £10 after party ticket which gets you entry; a complimentary welcome cocktail; a night of 1920's-style revelry with live music from Basin Street Brawlers; a DJ; dancing; access to all three bars; and first dibs on buying tickets to the next events.