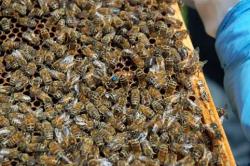 I can't concentrate on the lovely hexagonal honey frames that beekeeper Toby Mason is showing us because I'm terrified I've left the zip open on my protective bee mask. There's a lot of buzzing going on. Perhaps a few critters are making a beeline for somewhere they'll never escape. Once I've calmed down and calamity has not ensued, I'm able to watch Mason, who runs an apiary in Regent's Park, tend to his thousands of New Zealand honey bees.
Mason has 11 big beehives which look like miniature Swiss chalets with gabled roofs, and around 40 hives scattered across the park. The bees are lucky to have such an abundance of flora at Regents Park. They feed on whatever is currently in blossom, at the moment, it's the lime trees and blackberry brambles in the apiary which yield huge amounts of nectar – there's little need for the bees to stray too far away with such mouth teasers in their back garden. Lime trees, says Mason, give the honey an elderflower and citrus taste.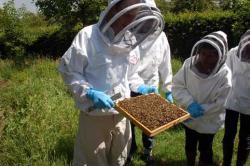 Up to 75kilos of honey can come from one hive, he adds, in which just one lucky queen bee lives with 50,000 workers. The queen lives for two years and lays up to 2,000 eggs a day, the busy bee. We see a queen, marked by a coloured dot, in this case blue, squeezing an egg out of her behind into one of the cells as the other worker bees tend to her, cleaning her elongated body or feeding her honey.
It takes 21 days for an egg to turn into a bee. We witness a bee being born. It scrambles out through a hole, a bit fluffier than the others. I wish, momentarily, that I were a queen bee. But Mason says it's better to be a human queen than a bee queen. They get pecked by the others when out on flights. And the queen has no wings – they've been clipped – so she can't fly out when the bees swarm – which is every so often. They like to get away, like the little rebels they are, despite how swish their brambles are. 'They're always desperate to swarm and that's how they split the colony, if they swarm, we lose half of our bees," says Mason, sadly.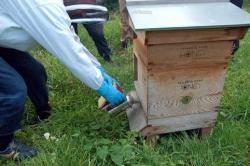 The honey itself is lovely. It tastes of mint and lime – basically, whatever the honey bees have sucked up from the blossoms. The Regent's Park honey is mainly sold in London health food stores, upmarket shops and appears in some restaurant dishes, including some of those at The Restaurant at St Paul's.
The number of times I've marvelled at St Paul's dome and never known there was a whole café and restaurant hidden in its subterranean arched crypt – apparently the band Elbow even played a private gig there recently and it's quite a gothic little haunt for such happenings. Who'd know?
So we had a taste of the honey in some of the restaurant's food, cooked by head chef Gavin Quinn. The restaurant is annexed off from the main crypt and varies from the café in its mezzanine and pistachio paintwork, which offset the white arches. The honey lifted the tang of the cheese in the main of goats cheese ravioli with rocket, honey & walnut dressing. This had a good mix of flavour and texture – oily walnuts, crinkly pink microherbs (don't ask me which) and al dente pasta.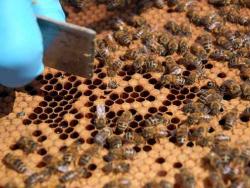 The honey was also sweetly subtle in the Regent's Park honey ice gingerbread sandwich which proved a hefty burger-looking dessert with great, rustic gingerbread – proper bread, mind – cushioning a block of creamy honey ice filling. Other tasties worth a mention but not made with honey included the homemade bread – deliciously rosemary-esque – and the beetroot-cured salmon, a firm buttery affair with a lovely scarlet tie-dye effect colouring its flesh. And of course… er, hang on, what's that itch?
Recipe for Regent's Park honey ice
Yield : 21cm x 21cm square tin lined with baking paper
Temp : 160oc
Cooking time: 45 minutes
220g honey
4 egg yolks
400ml double cream
200ml milk
1. Gently warm your honey and slowly pour over egg yolks. Whisk while gently heating 300ml cream and 200ml of milk till boiling point.
2. Then gradually add your hot cream mixture to your honey and yolks. Return to a clean pan and cook over a low heat, stirring consistently, until the custard is thick enough to coat the back of the spoon.
3. Strain through a fine strainer into a bowl and allow to cool.
4. Whisk the remaining cream to a firm but not buttery consistency and fold through the chilled custard. Place in the same sized tray as the ginger cake.
For the ginger cake
110s butter
110g sugar
110g black treacle
1 egg
170g plain flour
1tsp ground ginger
1/2tsp ground cinnamon
145ml warm milk
1 tsp bicarbonate soda
1. Melt butter, sugar and treacle in a saucepan. Then allow to cool.
2. Add eggs, whisking to incorporate.
3. Sift flour, cinnamon and ginger into the treacle mixture.
4. Warm the milk so it is just above body temperature. Once the milk is warm add the bicarbonate of soda. (This will activate the bicarb almost like sherbet in your mouth, making the cake rise once combined together and heated.)
5. Add milk to your treacle mix, pour into your tin and bake till a skewer once inserted comes out clean.
6. The cake should have a sticky top. Cool in tin. Once cool wrap in silicone paper and store till needed.
To assemble, slice ginger cake in half lengthways and fill the ginger bread with the ice as you would a sandwich. Dress with ginger syrup to finish.
The Restaurant at St. Paul's Cathedral