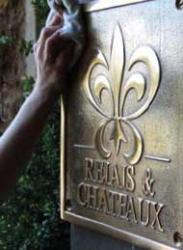 Did you watch with envy as Coogan and Brydon rolled around Italy eating all the way and staying in superb hotels in The Trip to Italy?
Well Relais & Châteaux has created Taste of Italy, a tribute to "Bella Italia" and her culinary traditions in a guide that explores the best that the Italian peninsula has to offer  from the North to the South, starting with a description of its most iconic attractions and finishing with an insight into its hidden gems with a Relais& Châteaux establishment waiting at every step of the journey.
The Association has 47 unique properties, all very different, but all united in their commitment to sharing the Art de Vivre with their guests. As in real life, throughout the guidebook, the Chefs and Maîtres de Maison personally welcome the reader into their establishment.
They explain what drives their passion for their profession; they talk about their territory; they share their cherished foodie places: their favourite butcher, good produce stalls at the local market, trendy bars for a fashionable pre-dinner drink, and more. 
The Route du Bonheur is a collection of nine food and wine itineraries through some of Italy's most fascinating regions that involves staying in local Relais& Châteaux establishments. 
Taste of Italy also includes the 2015 Gourmet Festival calendar, which features 42 events in 28 establishments throughout out the year, during which the Association's Italian and international chefs will team up to create original, creative dinners that reflect the culinary traditions of the host property.
Relais & Châteaux Italia
Via Principe Amedeo, 1 – 20121 Milano