The best Italian food in the UK is to be found in the North, according to an award campaign to find Britain's favourite Italian delis and trattorias. Bertolli has revealed that the winners of its Bertolli Spread Olive D'Oro Awards, run in partnership with and bbcgoodfood.co.uk, were both from the North of the UK. Edinburgh's renowned, family-run Valvona & Crolla took first place in the deli category, while Casa Mia Millennium – the latest edition to the Mazzolla family's Italian empire in Leeds – was voted the top trattoria in the UK.
The Awards were voted for by the public, to recognise the nation's best authentic Italian delis and trattorias and to celebrate 50 years of Italian food in the UK.
Italian food first came in to the mainstream in the UK when Italian trattorias began to flourish in London in the early 1960s – a period referred to as the 'Trattoria Revolution". Despite this, there are no London establishments in either of the top 10s. Overall, Yorkshire and Humber boasts the highest number of winners in the Bertolli Spread Olive D'Oro Awards, with four establishments across Leeds, Sheffield and York having top 10 places.
The full lists of top 10 deli and trattoria winners, who each receive a Bertolli Spread Olive D'Oro Award, are as follows: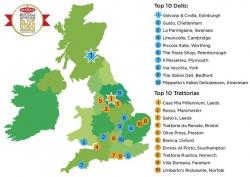 Top 10 Delis:
1. Valvona & Crolla, Edinburgh
2. Gusto, Cheltenham
3. La Parmigiana, Swansea
4. Limoncello, Cambridge
5. Piccola Italia, Worthing
6. The Pasta Shop, Peterborough
7. Il Pessetino, Plymouth
8. Via Vecchia, York
9. The Italian Deli, Bedford
10. Filippetto's Italian Delicatessen, Amersham
Top 10 Trattorias
1. Casa Mia Millenium, Leeds
2. Rosso, Manchester
3. Salvo's, Leeds
4. Trattoria da Renato, Bristol
5. Olive Press, Preston
6. Branca, Oxford
7. Ennios Al Porto, Southampton
8. Trattoria Rustica, Norwich
9. Villa Romana, Fareham
10. Umberto's Ristorante, Norfolk
For the full list of the winners of the Bertolli Spread Olive D'Oro Awards, visit www.bertolli.co.uk.