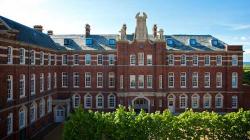 The view looking out of the window of the First Great Western train as it approaches Exeter is one of a disaster scene. Somewhere in the flooded fields Orla Guerin must be prepping for a live broadcast.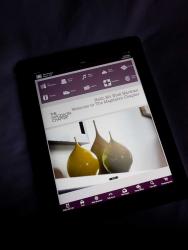 Although the train prudently slows down, the floods sweeping Devon have not yet cut off the city and we roll into St Davids station with dry feet. Further on down the line, landslips have closed the track and people are being bussed to safety, but we don't care as we're off to a rather fancy new hotel about ten minutes from the station.
The Magdalen Chapter is the latest hotel from Swire Hotels. Their sub brand, Chapter Hotels, is about the repurposing and refurbishment of historic buildings in the heart of UK cities. They turn them into cool trendy spaces sympathetic to a building's heritage, but totally contemporary in design and feel.
Ohhh Matron!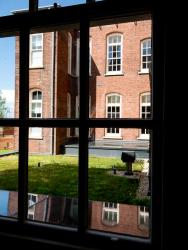 You feel the vibe when you walk into the main entrance of the hotel with its original stone floor. There's no reception desk, instead staff in the black and white trainers that seem to be Swire issue, check you in using clever laptops. You're then given, or to be accurate loaned, your personalised iPad and shown to your room.
Magdalen Chapter's earlier life was as The West of England Eye Hospital and its Victorian provenance is unmistakable. The corridors are wide enough to take patient trolleys down, even with Hattie Jacques running alongside, and ceilings are sky high and then some. If it had previously been an asylum, this might be a bit spooky, but rich carpeting and modern art prevents this.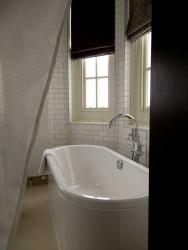 Rooms are opened by touch cards and inside they're a bit different as each has been created to make best use of the existing shape. Ours has a 'turret' extending in which a modern standalone bath has been placed in a circle of natural light. The main bathroom boasts an excellent walk in shower and one of those loos whose lid descends in slow motion. I like this a lot, but then I'm one of those blokes who always enjoyed opening and closing the trays of CD players in Currys.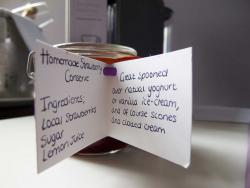 Oh and the mini bar is free, a nice change from mini bars that have more security than a bank vault and trigger a hair-raising charge if you even dare look at the salted peanuts. A complimentary jar of home-made strawberry jam meanwhile was swept straight into the waiting suitcase.
A big plug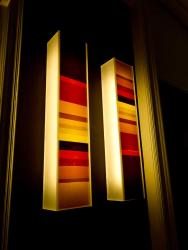 Further boy toys come in the shape of a Media Hub connected to the large telly. You can plug almost anything into this and play music, video and internet from your laptop, usb stick, and tablet or of course the provided iPad. The latter is pre charged with useful hotel information and local sights and you can use it to order room service, the morning paper and even book dinner.
The gap between end of bed and telly is a little tight, the wife and I found ourselves having to do 'after you, no after you' a fair bit in order to crisscross the room when getting ready. And on that note P bemoaned the lack of somewhere to sit in front of a mirror while putting her face on. I just looked up from busily bluetoothing my laptop to the hairdryer and grunted distractedly; women's priorities eh? Overall the room is uber swish and anything but anodyne, if you were making this a base for exploring the West Country or nearby Dartmoor, its marriage of style and practicality in the centre of Exeter would make it a great place to take a long weekend.
Not hospital food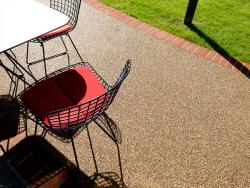 Simon Hopkinson 'one of the best cookery writers working today' opines Wikipedia, is in overall control of the Chapter restaurants. He's a man who's fond of sound, tasty cooking and no friend of flim flam. Head Chef Ben Bulger is a Devon man and has worked at Michelin Star restaurants as well as been Head Chef at the Real Food Pub Company; no prima donna then but an experienced and practical chef, ideal for hotel work where ambition has to be balanced with pragmatism.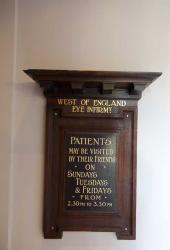 The restaurant is modern, a recent addition to the hotel, and pleasingly rotund. Staff are relaxed and the menu, which changes all the time, reflects what's good to eat at the time, rather than what's prescribed by an accountant. Of course there are pizzas and steaks on the menu, there to meet the dietary needs of American tourists and teenage children, but that's standard for any hotel anywhere. At least there aren't any burgers.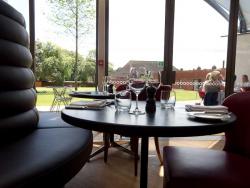 Scallops with broad beans and Iberian ham from a leg freshly carved in the open kitchen, were good, and at £10 the priciest starter on the fair-priced menu. The scallops well-cooked and the ham reduced to being salt but with flavour. P's quail had the usual scary Eraserhead appearance, but quail fanciers are used to that. Peppers, pine nuts and yoghurt gave it a North African tone and the bird was bone-suckingly good.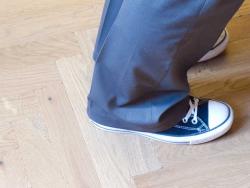 Roast chicken turned up as just a breast, when I was rather expecting bird components, and the skin wasn't all that roasty. In fact the breast was very moist overall and I rather prefer my chicken a bit drier, more chewable. The addition of crumbly boudin noir and girolles mushrooms was a good idea and the roast potatoes had a scent to them almost of lavender. Heritage yellow carrots had earthy goodness radiating out of them while also good were green beans with butter and parmesan, the cheese adding deep umami. Dessert of roast peaches was just right for flavour and weight. Overall the menu shows how to creatively mix varied types of dishes with the needs of a hotel's equally varied guests.
The floods recede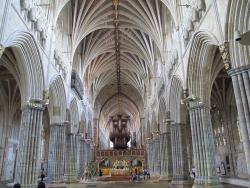 The next morning, sun had come to Exeter and the restaurant's French doors were flung open giving seamless access to the neat and welcoming garden and a view of a pool that is uniquely half covered and half open. Excellent scrambled eggs and smoked bacon, rather less successful baked peppers and eggs – too hot and rather too wet – topped up our calorie count. We grabbed cameras and wandered the streets outside ending up, inevitably, at Exeter Cathedral, a massive slab of history, the stone memorials inside making interesting reading – 'he was seen by the few who survived, still faithfully at his post and resigned to death, as the ship foundered and sank'.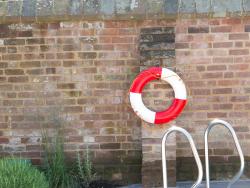 The Magdalen Chapter does Sunday lunch and the garden was filled by parents with small children, while the inside was full of people desperately trying to escape parents with small children, an arrangement that suited everyone. Roast shoulder of pork was fall-apart tender its texture suggesting long slow cooking, possibly sous vide, making this otherwise normally unsuitable for roasting cut work well. The all -important crackling was perfect, a crisp crunch and a gush of fat.
The Magdalen Chapter, pronounced as spelt by the way and not in the Oxbridge fashion, has made a real silk purse out of the sow's ear of a Victorian relic. It may have once been an eye hospital and an eyesore, but now it's really something special, a designer/boutique hotel with absolutely the right bedside manner.
---
Rates at The Magdalen Chapter start from £150 per room per night, including breakfast. The Restaurant is open 7 days a week, for breakfast, lunch and dinner. An all day bar menu, as well as afternoon tea is also served.  www.themagdalenchapter.com / tel. 0
1392 281000.
Advance single fares from London Paddington to Exeter St Davids are available from £12 each way. To qualify for the best value cheap tickets and offers, buy your tickets in advance. Here's how you can buy before you board: Online at www.firstgreatwestern.co.uk call 08457 000 125  or from station ticket offices."