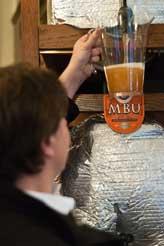 Ever since I moved to London from Lancashire more than a decade ago, I've thought that something has been missing from my beer. Or, more accurately, from the pumps. Back when I was working behind a bar during university holidays, all ales (which at my local meant best bitter or mild) passed through a sparkler before ending up in the customer's glass.
For the uninitiated, a sparkler is a little metal 'shower head' which is attached to the nozzle of the spout and froths the beer up to give a decent head. One of the things which I learnt during a recent ale tasting at the Walrus and Carpenter, a fine boozer near the Monument in London, was that it's isn't just the case that southern pubs have all misplaced their sparklers. Southerners apparently consider the use of sparklers a heresy, detracting from the aroma and taste of the beer. I reckon they don't know what they're missing.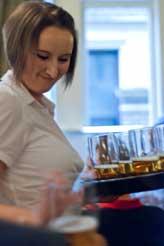 I wasn't actually in the pub to learn the truth about the north-south divide, however, but to try an array of brand-new summer ales which are the product of collaboration between Nicholson's – the nationwide chain of which the Walrus and Carpenter is a member – and eight UK breweries. The resulting ales, all light and fresh for summer drinking, are available only in Nicholson's. They proved to be well worth seeking out.
Looking back at my notes from the evening, I can see that my scores tended to become more generous as the evening wore on. Making allowances for this, however, three stood out for me:
Red Squirrel Hoppy Horatio. The name gives a big hint as to the main characteristic of this ale. In fact, the brewery decided to tone down the New Zealand hops, which can be pretty forceful. The result is a beer which at first seems unassuming but proves very enjoyable after the second or third sip. It's refreshing and fruity – I could taste the grapefruit notes which the brewers mentioned – with a long and (yes) hoppy aftertaste. Given the low alcohol content, at just 3.8%, this would be a great beer to settle down with for an evening in a pub garden.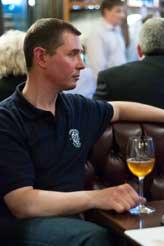 Sambrook's Lavender Hill. I may be a bit biased here, as Battersea-based Sambrook's is my local brewery. But this really is a great brew, reflecting an interesting bit of history – the Lavender Hill area of South London got its name from the flowers which were once commercially grown there, and this beer nods to that history with a touch of lavender honey. It isn't as floral as it might sound, and smelled almost like an Islay whisky to me (bear in mind that this was towards the end of the tasting night). The honey lends it a pleasantly silky texture and the hops – a brand new, unnamed variety – contribute an orange blossom aroma.
Moor Natural Beauty. If you're served this beer and it looks a bit cloudy, then don't send it back. It isn't because it's been stored badly but because it's unfined. Finings are added to almost all cask beers in order to make the live yeast settle before it's poured, and are made from – vegetarians look away now – the swim bladders of fish. It's rare to find unfined cask ale, but it's one of the specialities of the Moor Beer Company; they claim that it has enhanced aroma, flavour and texture. This example was certainly one of the highlights of the evening, with a citrusy flavor and a hint of wheat.
These were just personal favourites, though, and given a few summer evenings it would be worth trying the whole range, which also includes Cropton Hawaii 340, Inveralmond MBU, Robinsons Globe Hopping, Roosters Welsummer and Thwaites Sunshine and LolliHops. The last of these, in addition to having a pretty painful pun in its name, is notable for being a northern ale and therefore designed to be served using one of those dreaded sparklers.