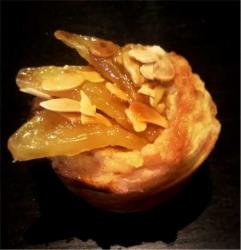 Caramelised Apple, Brandy and Almond Portuguese Tart
Walk into any trendy gourmet bakery and it's clear that Portuguese tarts are very much en-vogue these days. Generally the custard is flavoured with vanilla and perhaps a little orange zest. This recipe adds a sophisticated twist on the classic by using another Portuguese favourite: almond custard. Apples, gooey caramel and brandy seal the deal… and why on earth not.
Ingredients
For the Caramelised apples
4 x crisp apples (cored, peeled and chopped into slim wedges)
25g x Butter
5 x tablespoons caster sugar
1 x teaspoon almond extract
1 x handful chopped almonds (toasted)
1 x big glug of brandy
Pinch of salt
For the custard
125 g caster sugar
3 x egg yolks
100ml milk and 400 ml double cream mixed
2 x teaspoons almond extract
1 x tablespoon corn flour
Pastry:
Shop bought All-butter puff pastry
Method:
Apples:
Melt butter in a pan with 2 tablespoons of sugar
Stir in the apples and cook on a moderate heat until the sugar just begins to caramelise
Add the rest of the sugar and continue to simmer until the sugar is turned to caramel and the apples are translucent and sticky.
Splash in the almond extract and brandy the caramel will loosen. Continue cooking until it is thickens again.
Add the toasted almonds to the mix.
Pick out 3 slices of the apple per tart for decoration, and retain the rest for the tarts gooey core.
Custard:
Combine egg yolks, sugar and corn flour and whisk until a creamy paste forms
Heat the mix in a pan over a low heat whisking constantly, the paste should loosen slightly
Add the cream and milk in a constant steady stream, whisking the whole time
Add the almond extract at this point
Turn the heat up, allow to boil and then remove from heat. It should now be thick and creamy.
Allow to cool and thicken further
The Pastry
Roll out pre bought puff pastry
Cut out circles of pastry and press to the edges of greased and floured muffin baking trays
The filling
Place a teaspoon full of the apple, brandy, almond caramel in the bottom centre of each individual pastry case
fill to the top with almond custard
To cook
About 20 minutes in a preheated oven at 180 degrees
To garnish
See photo, slices of caramelised apples and toasted almond