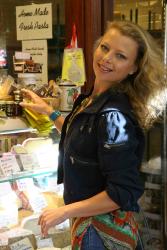 We hovered, several of us, outside Covent Garden tube station: each one of us standing alone, each of us unsure about whether to say something to the other. 'Are you waiting for the foodie tour?" was all it would take but still we stood there, isolated in our mutual but unspoken uncertainty. So simple and yet so nerve-wracking, this meeting of like-minded strangers.
A few more hoverers arrived and one of us, I forget who, spoke and the group began to gel, in that awkward way we have, an ice-breaker comment that doesn't quite break the ice, a jabbering about the weather while the wind jabbed at us. Then, from out of the unexpectedly biting cold, came the glamorous author and TV chef Celia Brooks Brown, wearing a warm smile and bearing a box of Ladurée macarons. We nibbled and passed judgement and then asked for more. It's a better subject – macarons – for bonding: slightly stickily crunchy, they slightly unstuck our English reserve. My first, a lemon ganache, was tart and sweet with a good balance of citrus to sugar. Salted caramel, pistachio, coffee, chocolate … Celia rattled off the flavours she had bought that morning, from the shop in Covent Garden piazza, and we all had a second. Why we all then politely turned down a third was unfathomable to me; I'd have crunched my way through the lot.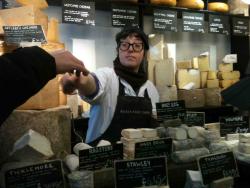 Crunching our way through the weather, we set off for Neal's Yard Dairy. A familiar spot for many of us, this showed how a specialist can turn a shop you've bought from before into an experience. We tasted, comparing and contrasting: Hafod, a Welsh organic raw milk cheddar-style cheese, full-bodied with a good salty hit, and Montgomery, more coarsely textured and tangy; and Childwickbury, a mild and creamy goat's cheese made in St Albans and unique to Neal's Yard Dairy. We listened, picking up snippets about cheese trends and how the seasons affect production. And all we usually do is pop in to sniff the cheesy air while asking for a small piece of this or that, often unconcerned about its provenance beyond knowing that it's good.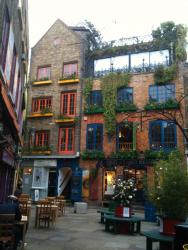 We set off for Neal's Yard proper – former warehouses, prettily painted – learning about its history and how, remarkably, its current uses echo its earlier incarnations: the apothecary is now Neal's Yard Remedies; a bakery has returned to the yard though not in the same spot. That has been taken by the Taste Space, Slow Food UK's shop to educate know-it-alls like me, promote artisanal products and forgotten foods, and revive lost traditions. Sales of Morecambe Bay shrimps – remember them? – are up by 50 per cent thanks to Slow Food UK's intervention.
Sipping a slightly fizzy and lightly bitter Pershore plum pressé, made with plums from the Vale of Evesham, and nibbling on Dove's Farm organic wholemeal digestives (wheaty, coarsely-textured, thinner, crunchier and more satisfying than their over-sweet, mass-produced namesakes) we compared and contrasted a Colston Basset stilton and a stichelton, both bought surreptitiously by Celia in Neal's Yard Dairy. The differences? Stilton must be made with pasteurised milk; stichelton must be made with raw milk. Opinion was divided between the sharper, lemony, bitter but rounded blue-flavour stilton, and the tarter but less complex stichelton. But the main lesson here – trying cheese, digestives, juices, fudge – was how much better are products from small producers. Strolling through a supermarket has nothing to do with Slow Food.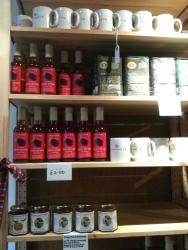 We picked up our pace a bit, moving on to Covent Garden Piazza and another eye-opener. Street food has burst on to the foodie scene recently. Or has it? I can't count the number of times, over how many years, I have ignored the food stalls in Covent Garden, assuming – how arrogant am I? – that it would be either inedible or riddled with salmonella. Next time you are there on a Thursday, check out, as we did, the Slovenian delicatessen Karantania (a pumpkin seed oil is a great drizzler or dipper) or the Venezuelan stall, the only place in London to buy cachapas, a pancake made with a crushed corn batter. It's a traditional working man's meal – filled with a spicy beef stew that balances the sweetness of the corn and makes a heart-warming last-all-day lunch.
After several more mind-broadening stops, we ended our tour in St Martin's Courtyard, off Slingsy Place off Long Acre. Glancing round, it's a rather depressing spot for a food fan. With a Jamie's Italian and a Bill's, it's easy to assume it's all formulaic stuff. On the right, out of first sight, is the very individual Dalla Terra. Here the food is simple and uncomplicated but very good indeed. The wine is real – made with the least possible intervention. Our editor has already reviewed Dalla Terra, extremely favourably, and he's right.
Glad to be in the warmth and sitting down, and despite already having eaten greedily, we got stuck into a fava bean dip with chicory tips (a modern version of a southern Italian shepherd's working lunch); a gooey, warm grilled goat's cheese wrapped in vine leaves; a light hake ceviche; and … the dishes kept coming, the wine kept being poured.
Throughout, Celia offered titbits of knowledge as we ate more than titbits at every stop. She has all the skills a guide needs: patience, adaptability, problem-solving, calmness, warmth and a vast amount of knowledge about food and its importance to Covent Garden, then and now. She passes it on lightly, willingly, smilingly, filling the time with inside information, fascinating facts – and all while guiding and making last minute changes imperceptibly when something well-planned turns out not to be. The itinerary changes depending on the time of year, who is in the group and how things go on the day. There is no lecturing and no dreary history, just a lot of fun. And a lot of food.
Celia Brooks Brown runs gastrotours in Borough Market, Portobello Road and Marylebone as well as Covent Garden: www.celiabrooksbrown.com