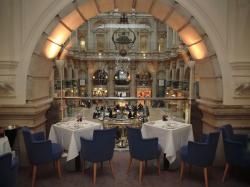 I've got a bit of a soft spot for the Royal Exchange perhaps because a hard corner of it is forever Harman. The history of Royal Exchange, engraved in stone and an integral part of the building's structure, was actually written by me in a previous job. I always hoped that my writing might stand the test of time and now it's official. After the big boom, along with cockroaches, bloggers and the Airwear soles of Dr Martin's shoes, it will still be in existence.
That aside I've always had decent food in RE's Sauterelle restaurant and good times in the Mezzanine Bar, so invited to road test Sauterelle Valentine's Day Menu for free (yes, dear reader, sometimes we get comped) I wasn't going to put on a freshly laundered hair-shirt and turn it down. In any case the wife, having also been invited, wouldn't have let me.
At £50 per person, or £75 with matched wine, it's a reasonable priced offering given the swanky location. From the first floor windows you can people-watch by looking down on the courtyard below humming with well-heeled financial types. 'That's never his wife,' being just one of the observations it's fun to make, along with, 'that's a very bad comb over, mate'. A view is a bonus at any restaurant.
Chef at Sauterelle is Robin Gill who, amongst other roles, has been sous chef at Le Manoir Aux Quat' Saison and is a charming Southern Irishmen with a family background in farming and being close to food production. For Valentine's Day he's put together a nicely simple menu to make it easy for couples to get on with the evening and not agonise over choice.
The complimentary Valentine Rose Cocktail, created by Zoran Peric, resident 'mixologist' at The Royal Exchange was soon swigged and attention switched to Yukon gold potato viccisoux (sic) sourdough crouton and perigord truffle cream. Served in what appeared to be either a space helmet for midgets or an eccentric goldfish bowl, it was smooth on the palate and had a fine waft of truffle, which is always a sensual treat. It was served with Vermentino Colli di Luni, Cantine Lunae, 2009, Tuscany.
Starters proper we split in the interests of science. My Gressingham duck ballotine with celeriac remoulade and spiced prune was good – not showing off, tender, well seasoned and flavoured and easy to eat, with the celeriac remoulade nicely crunchy against the soft duck. P's Cornish crab ravioli, cucumber, samphire, lemon grass was slightly the better dish; the lemon grass was subtle and swerved in and out of the sweet crab like a police car hammering up Regent Street in the rush hour. Seafood and romance are inseparable, as sailors and mermaids have demonstrated, so it was an appropriately Valentine's dish. I was given Givry, Sous la Roche, Michelle Sarrazin, Burgundy with my duck and P had Macon Village, Vignerones des Terre secrètes,2008, Burgundy.
A quickie dish of Sussex beetroot salad, fresh goat's curd and roasted hazelnut was a real delight. This is a bit of threesome action that never goes wrong or gets the Sunday papers involved. A drop of Sauvignon de Touraine, Alain Marcadet, 2008 Loire Valley, washed it down.
If you're going to do romance afterwards, a lighter meal before is in order. Nothing spoils the amorous mood quite as much as trying to repress toxic burps, which is why I went for Line caught sea bass, butternut squash, bulgur wheat, toasted pumpkin seeds and pickled sultana dressing. The dish had been, in my quasi-expert opinion, left under the pass lights a bit too long and had consequently lost a pixel or two of its bloom and the skin some of its crispness.
Not a disaster though and the dish made up for the slight lack of shine with its clever combinations. I like a variety of texture in a dish, which is why I don't eat burgers, and here squidgy sultanas, smooth squash, crunchy seeds, granular grains and juicy fish all combined to be a fine dish. Sancerre La Vigne Blanche, Henrie Bourgeois, 2008, Loire Valley was the wine.
P had Roast venison saddle, Jerusalem artichoke, wild mushroom fricassee, celery, autumn nut crumbs, and roasting juices. I can't report much about this as Jerusalem artichoke, apart from constant attempts to take over my allotment, also gives me wind. Sorry, but it does. P got Mulderbosch Faithful hound, 2005 South Africa with her dish, which made me envious. I know each wine was chosen to perfectly match the dishes, and they did, but I do like a drop of red. Ah well.
To finish P had Granny Smith apple and roasted nut 'muesli" with dried cranberries and vanilla ice cream. I can't stand baked apple in any form, always suspecting there may be a loathsome clove lurking in it, so I refused to taste any. P said it was posh crumble and there's nothing wrong with that. I had Iced carrot and orange parfait, pistachio, vanilla mascarpone, ginger crisps and blood orange salad and it was lovely. Fresh, zingy and light. Both desserts came with Muscat de Rivesaltes, Domaine de Lerys, Rousillon, a wine I have always loved since the time I lived in Rivesaltes and bought cheap versions of the stuff in 2 litre barrels drawn from a converted petrol pump. Happy, hazy, days.
Smart service, smashing view, well-priced food and somewhere a bit different to go on the big night, Sauterelle actually gets my unbiased vote. On an evening where rip offs lurk around every corner and shabby service and bad food are shovelled out to a cornered and quiescent clientele, Sauterelle does the business and 'laydeez' get roses, chocolates and goody bags too. You gotta love that.
Restaurant Sauterelle, The Royal Exchange Bank, EC3V 3LR