33 King Street, Covent Garden, London WC2E 8JD www.closmaggiore.com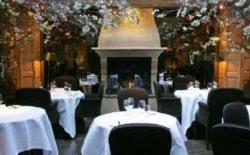 Clos Maggiore bills itself as 'voted the most romantic restaurant in London', and if evidence were needed the two men playing active tonsil tennis on the table next to us would have been enough. When not engaging in this activity they held hands. Ah young love eh?
I'm not so young but I can still appreciate a romantic dining room. Glazed above to reveal what might be a starry sky, were it not chucking it down outside, it has foliage creeping up the mirrored walls , a nicely roaring fire and little fairy lights twinkling everywhere.
Clos Maggiore has been in Covent Garden quite a while and is a very popular place in an otherwise bad-food part of town. Pleasant enough in all areas, it's the courtyard conservatory that's the place to aim for. It's the ideal spot for romantic assignations, particularly naughty extra-curricular ones.
I went with a lady not my wife, but with full permission therefrom, and the restaurant does do the special occasion business very well. Staff are suited and booted and have the appropriate Italian and French accents.
Chef Marcellin Marc's menu is nicely compact, which always helps get the ordering quickly out the way and the staring into each others' eyes up and running, but the wine list is a magnum opus (sic). Pages and pages of wines, including some that top £1000. Whoever orders those apart from drunk City boys? We bottled the wine list and instead asked for wines by the glass to go with our dishes. If the sommelier was disappointed that we didn't go for a four-figure wine he concealed it well and shimmered off to give our wines some thought.
The home made breads were pretty good, but the amuse wasn't that amusing and in fact was a bit tedious. Not really an amuse at all but a kind of shrunken starter which didn't really tickle the palate and threatened to be too much. L wisely left the bread part of hers on the plate. It was the kind of thing a suburban restaurant might serve up, having heard that it was all the rage in 'that London'. A somewhat surprising way to begin.
My starter proper of Braised Shoulder of Loire Valley Rabbit, Sweet and Sour Black Radish, Wholegrain Mustard Mousseline was much more the ticket. The bunny was so fall-apart tender, you might have suspected a sous-vide had been involved, and the meat had excellent depth of flavour, as the less popular cuts of any animal often do. The mousseline I found a bit too rich; okay for a few bites but soon overwhelming. The attack of the mustardiness was welcome, it just needed impoverishing a bit.
L had the crab and Brown Shrimp with Cauliflower Remoulade. Overall she felt the dish slightly too fridge-cold. As we'd waited quite a while for the starters to appear it wouldn't have been hard for the kitchen to have warmed the dish up a few degrees before serving to let the flavours develop. Good, sweet crab, juicy shrimps, classic remoulade and a starter getting 7 out of 10 from the judges.
Mains were solid but thankfully not stolid. Slow Cooked Charolais Beef Cheek, Potato and Almond Croquette, Fine French Beans, Bay Leaf and Hermitage Sauce delivered plenty of honest artisan flavour from the cheek of one of Europe's finest cows. Charolais cattle are the white ones you see dotted about as your TGV hurtles through France. Beef cheek needs slow cooking, it's not a cut that responds well to speed, and Clos Maggiore have had it on their menu a long time so have had ample time to get it right.
Caramelised Honey Glazed Gressingham Duck Breast Roasted Red Plums, Endive Meuniere, Ruby Port Sauce was straightforward, somewhat old-fashioned, cooking, the duck properly pink, the plums cutting the fat and the bitter endive balancing the sweet port.
Valrhona Chocolate and Griottine Fondant with Griottine Cherry Sorbet for pud. Griottines are Morello cherries that been macerated in Kirsch to increase their 'cherriness' and add an alcoholic sub text. Or to put it another way, it's an old soak's dessert of choice. The cherries inherent sourness balances the otherwise overarching richness of the Valrhona chocolate and the chill of the sorbet balances the hot ooze of the fondant. More balancing acts than Cirque de Soleil in fact and all done very well.
And that's what Clos Maggiore does overall. You're not going to have a mind-bending gastronomic experience here, the food is not the star you are. Or rather you and your date. And there's nothing wrong with that, too many restaurants ask you to bow down to their altar of food and say 'I do' to chef's ego. Clos Maggiore is more concerned in marrying good food and a memorable experience for couples who want a rather special occasion.