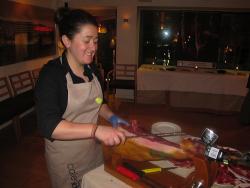 The pig gives us so much and asks for so little in return; a warm sty, some mud to root about in and a bit of decent swill. Pretty much like restaurant critics really.
What makes the pig particularly great is that its meat can be preserved in so many ways as a bulkwark against leaner times of year. All over the world you'll find similar but different examples, from the blood sausages that pop up under various names – Blood pudding, Morcilla, Mi xue gao, Boudin noir, Lancashire pudding and Marag Dubh (Scots Gaelic) to the salted and preserved meat that appears as Jamon Iberico and Parma Ham.
The Spanish revere Jamon and their leading chef, Ferran Adria, is a devotee too. The best bit of course is the fat, which should dissolve on the lips even before it even gets to the tongue. Many people consider Jabugo Iberico ham, from the village of Jabugo around 60 miles north-west of Seville and made from the black-foot pigs, the best in the world and one of those devotees is Iberica in London.
All this week they're showcasing Jabugo Ham Sierra Mayor by giving away free samples with every meal. Iberica has just been awarded a bib by the Michelin guide, one of the few things that fossilised institution actually got right (top tip, ignore the stars, the bibs are where it's at) and their take on modern Spanish is for my money one of the best in London.
The ham from acorn fed pigs is sweet and nutty and goes beautifully with dry sherry. If you haven't yet been to Iberica, now's the time to make a pig of yourself.
Iberica Food & Culture Ltd
195 Great Portland Street
London W1W 5PS