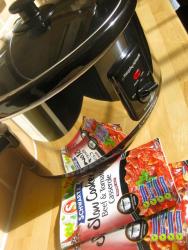 A few years ago the Slow Movement took the food world by storm with old-fashioned ideals about seasonal, locally sourced produce and cooking techniques to bring out the best in our food. Turning the other cheek to fast food and quick fixes, we were encouraged to use the cheaper, tastier cuts of meat, seasonal fruit and veg and to make the most out of your pantry and your budget.
While the impatient horde got off the slow food wagon; apparently it wasn't going fast enough, anyone who knows anything about food, knows that slow food never actually arrived and never really left. Slow food was something mums had been doing since the dawn of time.
Schwartz carried out a recent survey and discovered that 70% of UK mums have lost that loving feeling for home cooking and it's no surprise if you look at the figures. Schwartz found out that the average mum spends 2 hours of time preparing food that gets eaten in 10 minutes, leaving mums across the country feeling exhausted and underappreciated.
Another little nugget of truth they dug up, was that while nearly half of the homes in the UK have a slow cooker in the cupboard, only 14% of mums actually use them.
So the clever cats at Schwartz put two and two together and came up with a range of recipe mixes especially for mums, to help them save time in the kitchen and make use of that dusty contraption shoved up the back of the pot cupboard – the slow cooker.
As a mother, lover of food and terminally challenged for time, I was keen to try out the new range of Schwartz Slow Cookers seasonings. Just as the weather is cooling down and appetites are yearning for comfort food, Schwartz has come to the rescue just in time.
With four flavours to try, Chicken Curry, Beef & Tomato Casserole, Sausage and Bean Casserole and Chicken in Red Wine, you can get a little taste of our favourite comfort classics from all over the world.
We tried the sausage and bean casserole. I was heading out for the day and popped the slow cooker on as I left the house in a flurry of school bags and nagging. I used Cumberland sausages in my casserole. With young palates to consider, spicy sausages are not on our menu but would make a great choice for this recipe.
I threw caution to the wind and added a can of haricot beans to the cannelloni beans suggested on the pack. But you could also use kidney beans or butter beans. In fact, while you're at it, and if you're so inclined, you could even pop in some chickpeas, sweet potato and parsnips and make it a vegetarian bean casserole.
In less than fifteen minutes the meal was prepared and a few hours later, dinner was on the table. Served up with creamy, although slightly lumpy mashed potatoes (I can't be good at everything) and some steamed Brussels' sprouts and green beans this was a meal fit for my 3 little kings.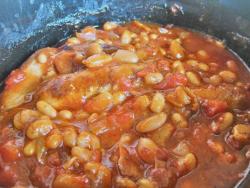 With each of the recipe mixes, Schwartz has included some handy tips and alternatives on how to vary the meals. Served up with your favourite sides and some fresh steamed vegetables, these tasty casseroles, curries and stews tick all the boxes for a nutricious, satisfying family meal.
To launch the new slow cooker range, Schwartz have challenged UK's leading mummy bloggers to receive their 'Gift of Time' by using the recipe mixes. To watch their experience and to get involved in exclusive competitions, visit http://www.facebook.com/SchwartzCookingClub .
For serving suggestions, cooking advice and how to get the best out of your slow cooker, visit the Schwartz website.