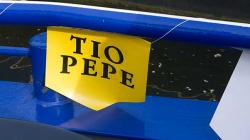 '"There's nothing––absolutely nothing––half so much worth doing as messing about in boats." 
Well, The Wind In the Willows' Ratty nearly got it right. But what he neglected to mention is that messing about in boats is even better when you're sipping a glass of cold, dry Fino.
And thanks to Tio Pepe, I got to do just that when I boarded their Sherry Ferry this week.
Festooned with fiesta decorations like those at the annual Feria del Caballo in Jerez (the home of sherry in Andalucía), the canal barge looked every inch the party boat.
And once everything was shipshape, we pulled out along London's Grand Union Canal, taking in London Zoo and Camden Lock before coming back to port at Paddington.

As the Fino flowed, we learned more about how this special product is made.
It starts off as a bland white wine, made from the Palomino grapes. Then a fungus or'flor' is allowed to grow on top as it lies in oak barrels.  The flor stops the sherry oxidising and gives it flavour and dryness.  Finally, the sherry goes through the solera process where some older wine is blended in.
According to scientists at Kings College, London, Tio Pepe causes the mouth to water,'cleaning' the taste receptors so that they can appreciate different flavours better.
So it's not surprising that a well-chilled Fino is the natural bedfellow of tapas. And on board the Good Ship Sherry, we were treated to a handsome supply of bites from London restaurant group Iberica, which has just opened its fourth restaurant in Farringdon.
Head Chef Nacho Manzano is fastidious about authenticity and matching food with the best wine and sherry and that attention to detail certainly shone through.
We enjoyed lots of strong flavours, which the Fino perfectly stood up to; sharp, herb-encrusted manchego cheese teamed with fruity membrillo, earthy chorizo pastry puffs, paper-thin slices of the finest Iberico ham and beetroot gazpacho.
But without doubt, the highlight of the evening was the unveiling of this year's limited edition Fino'En Rama' which means'from the cask'.
Unlike standard Tio Pepe, which is made from a blend of seven Fino soleras, this is created from just two of the finest selected by head winemaker Antonio Flores.
It's bottled in spring because that's when the flor is at its thickest. The sherry's taken from the centre of the cask to obtain the cleanest wine with minimal disturbance of flor.
Best enjoyed within just three months of bottling, this is the fifth edition of En Rama, which was only bottled on 21st April.  It's unfiltered and unclarified and arrives by refrigerated truck to ensure it's in pristine condition.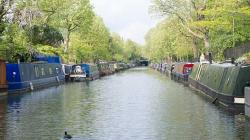 Every year it is slightly different and this edition is noticeably brighter in colour than the classic Tio Pepe. It's also fruitier, stronger and livelier.
Martin Skelton, managing director of Gonzalez Byass, says: "Every year we give the En Rama a different vintage label from Tio Pepe's back catalogue. We've got 30,000 to choose from so we won't run out any time soon."
If you want to get your hands on the limited edition En Rama, it's available from 5th May from suppliers including Adnams, Berry Brothers & Rudd and Lea & Sandeman.
As we sailed on into the night, we were refreshed with glasses of Rebujito – a special cocktail made up of half a glass of fino, topped up with lemonade, sprigs of fresh mint and plenty of ice.
The idea is that when you're out at the'feria' you can quench your thirst and stop yourself getting too wobbly by regulating your intake with a couple of these.
Ahoy there, drink of the summer!