Heathrow has a new circle of hell, The Queen's Terminal. But is it actually so bad? Keith Lewis goes beyond security to see how the weary traveller may actually have something decently foodish to look forward to
Is there anybody on this earth that actually enjoys being a captive consumer? Personally, I shudder at the thought of motorway services, or queuing for sub-standard, tinned lager at a gig. And I've never quite gotten over the anger of being forced to sell the entire contents of my hand luggage just to pay for a single Espresso at Paris' Charles De Gaulle airport.
However, talking to some of the proprietors set to open their doors in June at Heathrow's new Queen's Terminal, it seems there might be hope. That's because, guess what… they seem to be focused on consumer experience. Wow.
Take The Gorgeous Kitchen for example. A collaboration between four female British TV chefs, they're bringing global cuisine, via fresh British ingredients, to their luggage-laden guests with dishes such as butternut squash and ricotta ravioli and monkfish and tiger prawn curry.
Importantly though, they've thought a lot about space as well. Their open kitchen will not only greet diners as they enter but will provide a visual screen between the guests and the fluorescent reality that they are actually being held captive in a giant shopping mall for an hour or two.
The Gorgeous Kitchen wants diners to relax and forget they are in an airport. And even if last minute panics for sun cream and a travel plug might stand in the way of full immersion into the a la carte menu experience, travelers will still be able to enjoy what's on offer thanks to the restaurant's faster fifteen-minute service. And they won't pay through the nose.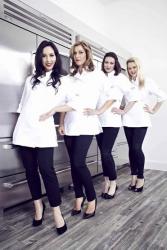 Flying the flag
Spurred on by Terminal Five many of the new outlets are intent on celebrating'Britishness'.
Heston Blumenthal, who is launching his latest project, The Perfectionists' Café, in the terminal, says that the idea behind his restaurant is "rooted in nostalgia, harkening back to the heyday of 1960s passenger flights." Those were the days when air travel had a bit of pizzazz." (Take note Michael O'Leary.)
So, pouring liquid nitrogen from something out of a school science lab, into a tumbler of Rob Roy, he explains that The Perfectionists' Café will be serving some of the UK's favourites: fish and chips, wood-burning oven cooked pizza and that other British classic – liquid nitrogen ice cream. Once again, the prices will not be elaborate – a burger (with the meat ground in the same direction to maximise flavour, obviously) will cost around the same price as it would in a gastro pub.
All of this is good news for those averse to the reconstituted meat and sodden pasta of a plastic tub of plane food.
Chiswick based brewery, Fullers, are also excited about the Terminal's opening. So much so, they've created an exclusive craft beer for their onsite London's Pride Pub. Wingman is a light, balanced ale and easy on the palate at any time of the day (as I discovered at 10.30 am) because after all, a holiday begins at the airport, right? And the pub's contemporary décor should be a far cry from the neon signs and uncleared table surfaces of other airport watering holes.
In addition to food, The Queen's Terminal will also offer a complimentary Personal Shopper Service (in over 38 different languages). There will be over 400 outlets and you can even get a massage, or beauty treatment, compliments of World Duty Free.
Don't get too snug though. Unlike the 1960s, there's little chance a modern airline will wait for you if you arrive late at the departure gate.