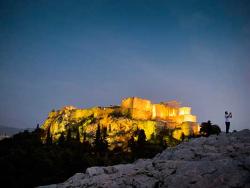 Feta cheese, taramasalata and moussaka are the dishes that spring to mind when we think of Greek food, but there is a new wave of gastronomy especially in the capital which has seen a number of modern cafes and restaurants which bring a new twist to Athenian cuisine.
One of the nicest ways to see what is on offer is by one of the local food tours which take visitors on an eye-opening and mouth-watering adventure.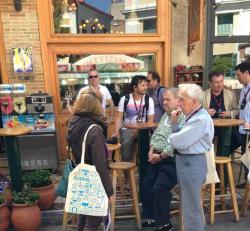 'Greeks eat a lot of pies' said Maria as we make a stop at the fragrant bakery in Psiri, the Soho of Athens, a bohemian part of town which is home to traditional coffee shops and simple stores like this one which sell Bougaza, Loukoumades and other syrupy sweet pies which the Greeks love as well as savoury pastries stuffed with spinach and cheese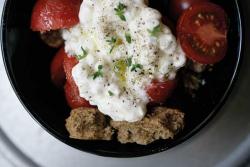 Pie shops like this were once seen as an insult to women, as wives are judged by their pie-making abilities and a husband visiting a pie shop was tantamount to adultery
Restaurants breaking the mould of Greek cuisine include  the ultra-modern Tzitzikas Kai Mermigas just off Syntagma Square with its white walls and displays of retro olive oil cans and bottles On the menu is an unusual take on the pie-theme, chicken in pastry, as well as baby goat and  mussels in ouzo sauce . Fellow diners range from parliament workers to big groups of friends. Athenians claim the ubiquitous Ouzo is just for tourists, so instead try  Tsipouro (it's very similar) or one of the local beers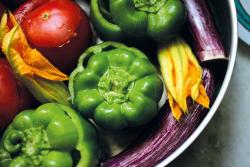 Also reinventing Greek classics is the buzzy Melilotos in the Athenian downtown shopping district on Kalamiotou Street. The menu changes daily and is all locally sourced.  Hungry office workers head here for hearty sausages with white beans, homemade Greek pasta and some good vegetarian tarts.
Contemporary Greek cuisine with great views of the Acropolis from its rooftop can be found at Kuzina, on Adrianou Street with dishes such as dumplings with feta and pomegranate sauce and pork roasted for 12 hours with lime and basil cream.
If you are keen to see where most of the food comes from, take a trip to Athens Central market and if you have developed a taste for Greek food the city's Museum of Greek gastronomy will open this summer in a neoclassical building in Psiri.
Tzitzikas Kai Mermigas – Mitropoleos 12, Athina, Greece
Melilotos – Kalamiotou 19, Monastiraki, Athens 105 60, Greece
Kuzina  Adrianou 9, Athina 105 55, Greece
Athens Central market