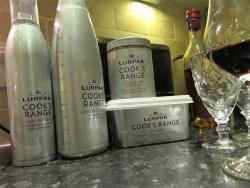 Foodepedia writer Douglas Blyde rises to the challenge of cooking us an 'adventurous dinner' using Lurpak's new Cook's Range
'I find the jellyfish tentacles nice and crunchy, I hope you do too', says chef. We're now on dish three of an eleven course menu and each is more surprising than the one before. It's an adventurous menu by any standards and made tougher for the chef by the fact that he has to use four new Lurpak butter products, their new Cook's Range across every dish.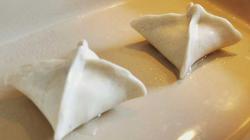 Lurpak have provided the products free, and helped meet our costs, so we can find out if their ad campaign, all about being adventurous in the kitchen has any basis in reality. Of all the team at Foodepedia, wine writer and food explorer Douglas Blyde was our first choice of test bed chef, but even so we never imagined he'd put in such a massive and magnificent effort.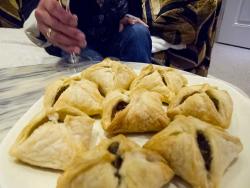 On arriving at his south London flat the five of us have been immediately treated to smoked imam bayildi. This is an aubergine dish whose name means'the Imam fainted' and it's generally believed that he passed out either with joy at the flavour or in horror at the amount of olive oil used. Well Douglas has made it with the Lurpak Cooking Liquid and the result is much more taste and less oil.
We also ate goat's cheese filo parcels made using the spray and fresh chickpeas fried in the cooking liquid with salt and sugar. Garlic stuffed green olives with dusting of cayenne and Chinese "Tabasco" were the only things not buttered up.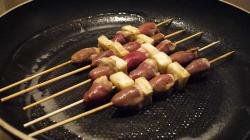 All very impressive straightaway and we're told the cooking liquid got to a high smoke point without burning but delivered buttery goodness still. Glasses of Times Square Champagne Cocktail wash it down.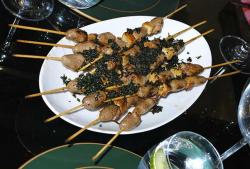 So far so impressive and brushing flakes of filo from our faces and clothes, that stuff really does get everywhere, we head to the kitchen for some more adventure.
Chicken hearts marinated in pomegranate molasses, soy and five spice have been interspersed between cubed king oyster mushrooms and placed en-brochette – which is to say on a stick – ready for grilling. Here the Lurpak Cooking Mist  is particularly effective as it delivers a fine coating to every surface, something very hard to achieve with oil or butter on a brush. More economical too, as it only takes the briefest button press to do the job. The hearts are served with parsley that's been fried in the cooking liquid.
Quite challenging really, chicken hearts.  I have to say that my own sank a bit when I heard about them; I'm not generally squeamish but…. . No one else seemed fazed though, or perhaps they were putting an equally brave face on I, and I found that rather like haggis, if you don't think about it you enjoy it a lot more. Firm yet yielding, the hearts actually won my love and so I had another stick.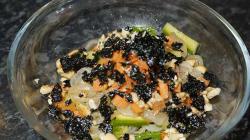 Shredded jellyfish with cucumber, sesame and truffle oils, finely cubed orange carrots and chopped cashews was fried with a quince reduction in the Cooking Liquid and sprinkled with fried seaweed sesame seeds. This was a texture playground and the jellyfish, caught and landed at a local Korean food store, was remarkably pleasant. Having once been very painfully stung by a jellyfish it was good for my karma to take some revenge.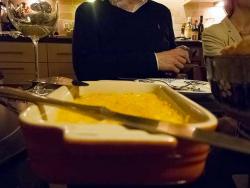 The chickens also surrendered their livers to create a parfait with fresh orange juice, Campari and flambéed Cognac, double cream and a little icing sugar and spiked with a very small amount of bird's eye chilli and, topped with Lurpak Clarified Butter and orange zest.  The butter was very handy here, Douglas reported, as it saved an awful lot of time making it himself.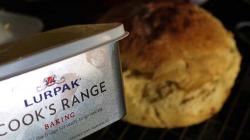 We spooned, as it was very liquid, the parfait onto sliced brioche made with lemongrass, coconut and cashews the brioche having been made with Lurpak Baking Butter. This is soft to use straight out of the fridge and seems to create a lighter result than pure butter, which was a good thing as this was a pretty rich dish.  Ligurian Vermentino was the sommelier's choice.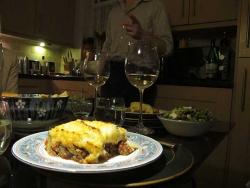 As if this wasn't enough we then went for the main event – Halal goat shepherd's pie with white wine braised red carrots, onions, spring onions and leek, garlic and smoked garlic, anchovies, bell and Scotch bonnet peppers, jaggery, white wine, black and red cracked pepper, courgette, shitake mushrooms cooked in Lurpak Cooking Liquid and all topped with first harvest Jersey royal mash made rich with Cooking Liquid, cream, truffle oil and Parmesan.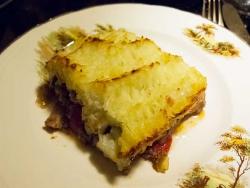 This was superbly flavoursome, most of us had never knowingly eaten goat before, or at least not like this. The meat raised the humble shepherds' pie to a new gourmet height. Freshly reviving the palate came a salad of cress, young cucumber, radish, cherry tomatoes and green lettuce and red endive, with lemon zest and juice, olive oil, fish sauce and celery salt, maple syrup, black pepper. Also on the side was a skinned, de-seeded cucumber shot filtered through muslin and sieved then marinated with star anise, sugar and Piran salt, with Konik's Tail vodka and quarter of a lime. A bit of an eye-opener that for those feeling the weight of food slowing them down.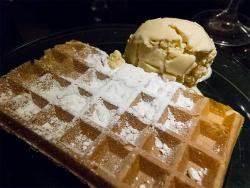 And then Douglas got out his kit, a Belgian waffle maker. Using the Lurpak Baking Butter mixed with white flour, crushed almonds, almond extract and crushed speculoos biscuits ( a bit of a Belgian favourite) he put the gooey mix into the machine and crisp, sharp-edged waffles emerged to be served with Pedro Ximenez and vanilla ice-cream with a dash of cooking liquid.
A long evening but one more full of surprises and good food as any we had had in a long time. Lurpak's claim that adventure is never far away with their new cook's range was vindicated and we were full to bursting and well-buttered up.
{YOUTUBE:vmOr9I2JxZs}
,