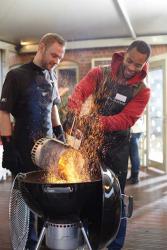 Spring is in the air and the longer, brighter days mean we all feel like spending more time outdoors.  If the barbecue is not already out of the garage or shed, bank holiday weekend is a great time to get it set up ready to go.
If the thought of cleaning your barbecue ready to use puts you off cooking outdoors, then fear not, it actually takes much lets time to prepare than you think. 
These easy but essential tips from Weber® Grill Academyâ"¢ manager Clare Edwards will have you prepped and ready to start before you know it. 
CHARCOAL BARBECUE CLEANING:
Step 1: Light the charcoal using a chimney starter. After around 20 minutes the coals will have a layer of grey ash on top, they're now ready to pour on to the charcoal grate. 
Step 2: Place the cooking grate on top, close the lid and open all the vents.
Step 3: Leave for 10-15 minutes, this will sterilise the grates and allow any residue to carbonise, making it easy to clean off with a Weber® T-Brush.
GAS BARBECUE CLEANING:
Step 1: Light all the burners on your barbecue, turn up to a high heat and close the lid. 
Step 2: Leave on high for 10-15 minutes, this will sterilise the grates and allow any residue to carbonise making it easy to clean off with a Weber® T-Brush.
Step 3: Clean out the drip pan and grease tray regularly.  If left the build-up of fat could become a hazard. 
Easy!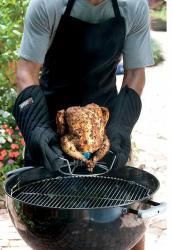 And there's more good news too.  Clare's advice when it comes to cleaning up after a barbecue, is not to! It's actually easier to clean up just before the next one so just sit back, relax and enjoy the party.  No need to worry.
So with the barbecue cleaned and lit, all you have to do is decide what to cook.  You'll find lots of recipes to inspire you and get the taste buds going at weberbbq.co.uk/recipes.  Why not try Beer Can Chicken, a popular and easy dish for the most succulent and tender poultry you ever tasted.
To make this dish even easier, the updated and popular Weber® Styleâ"¢ Poultry Infusion Roaster, infuses moisture and flavour into chicken and other small birds in one easy step. Simply pour beer, wine or seasonings into the container and place the chicken firmly on top. While the chicken is dry roasting on the outside, the inside is being bathed with steamy delicious flavour. Place onions, carrots and other vegetables in the dish to make delicious garnishes
Stocking up on new accessories for the coming season is always a good idea.  Whether you're cooking on gas or charcoal, Weber® has some really useful kit to help make your barbecuing easier and your food tastier. 
The Weber® Originalâ"¢ Bear Claw Shredders are another simple but effective must have accessory that make dealing with meat and poultry child's play. The stainless steel claws are perfect for shredding meat and poultry, or for transferring large roasts from smokers, barbecues and racks to the table, and the angled handle makes them easy to grip and use.
You can of course always splash out on a new barbecue to extend your range, maybe a portable one or a smoker for cooking those racks of ribs and brisket low and slow. 
Whatever you chose to cook, and how, have a great weekend and happy barbecuing.