This year's storms may have hampered much of travel to Cornwall. But don't let that put you off; once you're at the stunning Watergate Bay, you just can't tire of the water, whatever its form.
Step into Cornwall's Fifteen on the beach and you're surrounded by the rapacious Atlantic which gives this posh beach shack on stilts an instant advantage over the slinkiest restaurants. With vast, panoramic views of the ocean, this surely must be one of the best UK restaurants to work in terms of location?
Fifteen was doing its Sicilian season (until 4 April) when we visited one Monday lunchtime. But despite the dun sky and rain-sodden backdrop, the restaurant was filling up nicely at 1pm.
The interior is bright, white and airy with a varied line in lightshades (opaque cream pears, sparkly glass bell jars) and a preponderance of healthy-looking couples with newborns and the grandparents. I don't know why this is but the place exhibits an assured sense of well-being, as do most of the restaurants at Watergate Bay.
Of course, the origins of Fifteen are well-documented and not all originates from well-being: as with its parent London charity, Jamie Oliver's project trains up a group of apprentices in Cornwall from disadvantaged backgrounds (school exclusions, drugs etc) within its strong, professional arms.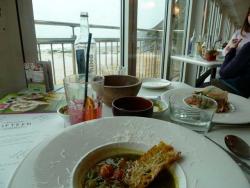 Look into the open kitchen, framed by a multi-coloured mural, and you'll usually see a hive of black-hatted chefs (the professionals) and white-hatted trainees although when we visited, the white-hats were all out on work experience. A pity not to taste their offer but happening upon the very reasonable £21 three-course set menu dispensed of such concerns.
For what it costs, head chef Andy Appleton has delivered excellent results. The starter of mixed beets, Cornish coppa, salsa di rafana and rocket was particularly impressive, not least in its clash of flavours from a horseradish-clad dollop of cream to clean rocket and salty ham. Quite weightless too. The Cornish coppa is made from slow-dried pork shoulder and was incredibly piquant, tasting a bit of cherries. The minestrone primavera was, again, fresh and light with welcome fregola – tiny semolina pasta balls originally from Sardinia – that didn't dominate.
We also liked how, for mains, the dissolved pork in the Castelluccio lentils (with crispy fillet of Pollock, white sprouting broccoli and salmoriglio) lent it a wine-like essence – which, completed with the broccoli in marjoram/lemon/oil salmoriglio made this a very fine dish. Only complaint with this one was that the crust could have been crisper and had been dampened by the broccoli sauce.
The crespelle of wood roast vegetables was as good as a load of vegetables together can be but didn't wow me. But the vanilla panna cotta with poached rhubarb and lemon shortbread was excellent. What a charm to see a floppy panna cotta sans gelatine that curtseys then collapses like a milky jellyfish. The cream also licked the tart off the rhubarb quite nicely.
In the evenings, because you can't see the ocean, they flick the chairs around and make the theatre of the open kitchen the centrepiece. But I was glad to be trying out lunch as relatively few restaurants can rival Fifteen's dual boon of view and quality food.