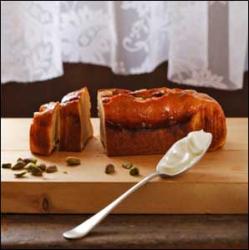 Deliciously light and moist with a zingy twist, Bonne Maman's Lemon Marmalade Yoghurt cake is easy to make and long lasting – for a tasty treat to last the whole week…
Marmalade Yoghurt Cake
Prep Time – 20 minutes, Cooking Time – 45 minutes
125g Greek yoghurt, plus extra to serve
50ml vegetable oil
1 lemon, zest only
1 orange, zest only
3 eggs
125g caster sugar
200g plain flour
2tsp baking powder
A sprinkle of pistachios to serve, chopped
For the glaze:
75g Bonne Maman Lemon Marmalade
1tbsp fresh orange juice
1. Preheat the oven to 180°C/350°F/Gas Mark 4 and grease and line a loaf tin.
2. In a large bowl beat together the yoghurt, vegetable oil, lemon zest, orange zest and eggs until light and fluffy. Sift in all
the dry ingredients and mix well.
3. Spoon the mixture into the prepared loaf tin and bake in the preheated oven for 45 minutes.
4. Remove from the oven and leave to cool a little in the tin.
5. Meanwhile, make the glaze by warming the marmalade and orange juice in a pan. Pour the glaze over the cake and set
aside to cool and soak completely.
6. Remove the cake from the tin when completely cold and serve with a good dollop of Greek yoghurt and a sprinkle of pistachio nuts.