Llanrhian Road, Porthgain, (near St. David's) SA62 5BN  theshedporthgain.co.uk
From the outside it's little more than a rustic wooden conservatory. But The Shed is reputedly home to some of the best seafood in Wales. Keith went along to find out what all the fuss was about…
Well first let's get one thing straight – The Shed is a fish bistro and not a chippy. And I say bistro in a good way. Its décor of French chequered tablecloths and quirky work from local artists give it a contemporary energy that is neither contrived, nor uncomfortable in its rural surroundings.
Overlooking a small harbour and hidden by the rugged cliffs of Pembrokeshire, The Shed is popular with ramblers. But punters will travel for miles (including many of its regulars) to eat here.
'We like to take a drive out occasionally,' said a man from Aberystwyth on the table across from us. For what it matters, they had a two hour journey just to get here.
'You know,' his wife added,'all our fresh fish gets taken away on lorries. Shipped off to France and Spain.'
'You can't even get a scallop in Aberystwyth anymore,' agreed the man, with defeat.
Here though, the owners of The Shed have their own fishing boat and go out every day, as well as being supplied by small local fisherman. So they have control over what they serve. All fish and crustaceans are locally sourced, even if they have to go a few nautical miles down the bay. The mullet, for example, comes from a fisherman in Solva, the crab from just round the head of bay.
There were two menus. The (newer) no fuss battered fish menu and the more established bistro menu. Availability, of course, changes depending on the catch.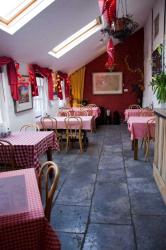 As a starter I ordered the king prawns. It sounds clichéd to bang on about'fresh' fish but when you can taste the sea in the flesh, hear the waves in the shell, you know you're onto a good thing. (Have a crab sandwich at lunch, and I'm told you'll be eating seafood that has been caught a few hours before.)
My girlfriend went for the fish soup – fishy as it should be and served with a hearty slice of bread. Other starters might include dishes like large scampi, creamy clam chowder and scallops.
For main I settled on battered monkfish tail and it came in three generous bits. The batter was fluffy as candy floss and the tail fried to perfection. Some like their batter thick and crunchy, I'll concede. But this, my friends, was a bit of me.
Pembrokeshire, I'm told, is not always the best spot to grow spuds. But if that's true, the fryer seemed to mask that fact well. What's more, there was very little residue lining my empty plate at the end.
My partner ordered from the a la carte menu – a whole sea bass served en papilliote. Again, it was fresh as the March night, and the mixture of simple herbs it was baked with didn't overpower the dish.
At The Shed we are not talking molecular gastronomy. We are dealing with reassuringly proper ingredients cooked with reassuringly proper care. It's humble and surprising, all the more for residing in a part of the world where until recently Google searches brought up a list of Toby Carvers. In Pembrokeshire, that's changing though.
It would be unfair to enthuse about the The Shed simply because it's an oasis, however. Since opening in 2001 it has remained happily oblivious to fad and the owners simply do what they do well.
What's more, The Shed is accessible. If there's a member of your party who wants battered sausage, they can have it. The fresh breeze that graces the Pembrokeshire coastline keeps that air of superiority well at bay.
And in the summer months stop by and pick up an ice cream, or grab some fresh fish to stick on the barbeque. Either way, if you're in the area, you must go.